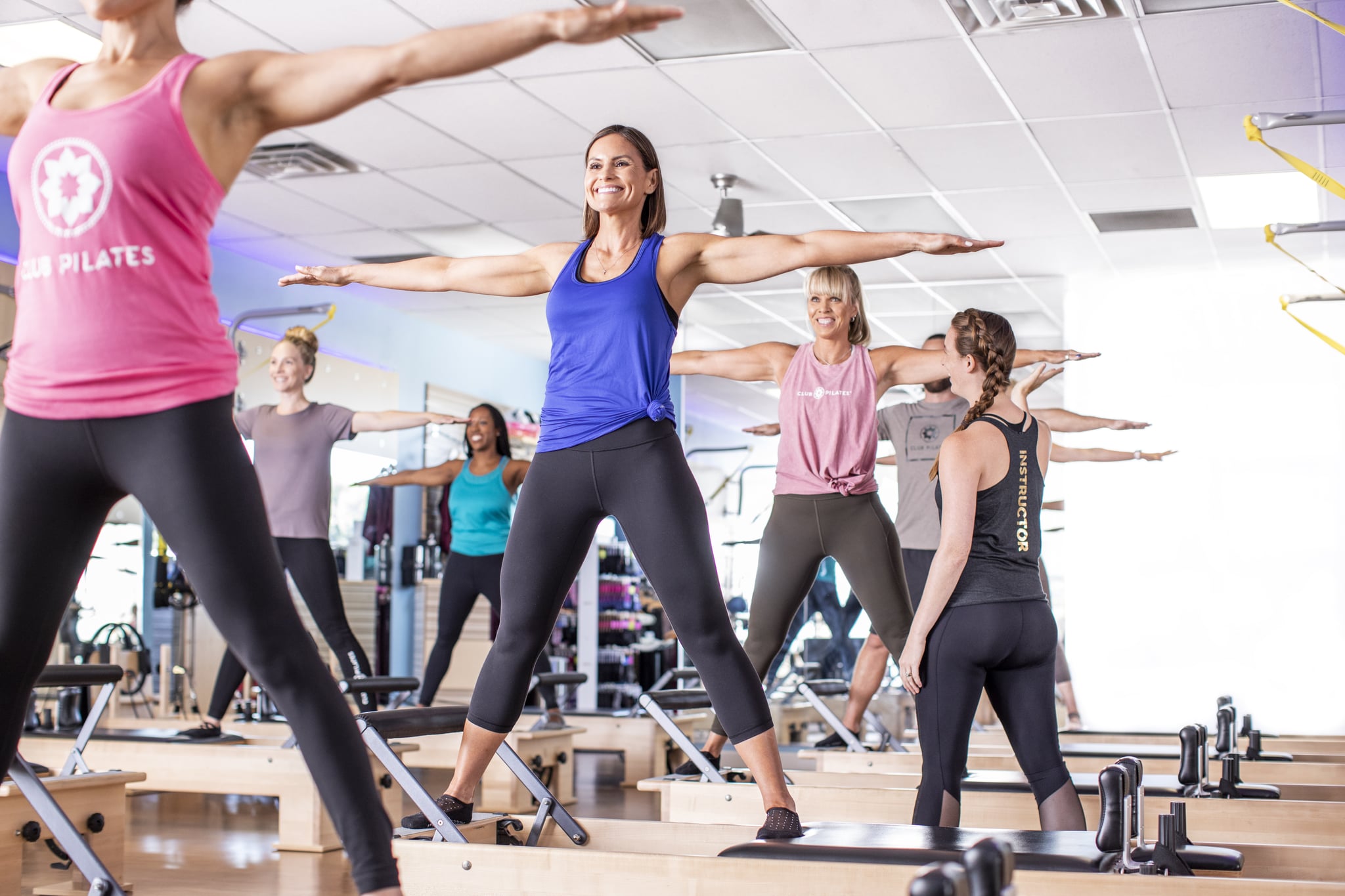 Pilates is so hot right now, and while you can get a solid Pilates workout at home without any equipment, one of the best ways to level up your practice is to hop on a reformer, an exercise apparatus that often has a sliding platform, pulleys, and springs. Club Pilates is a great place to do that; the Southern California-based studio has more than 800 locations across the country and is more beginner-friendly than some of the other more advanced reformer studios out there.
Club Pilates classes are suitable for all ages and fitness levels. Depending on which class you take (it has eight different options!), you might also use a TRX, an Exo-Chair, a Bosu ball, a mat, or a foam roller in addition to the reformer.
Though Club Pilates is beginner-friendly, Pilates reformers are pretty fancy pieces of equipment, so you might be wondering how much a Club Pilates class or membership will cost. Keep reading; we have all the details.
How Much Does Club Pilates Cost?
Club Pilates is a franchise (meaning each location is individually owned), and prices vary by location, so your best bet is to head to the Find a Studio Near You page on the brand's website. There, you can search for your closest location and find its contact info; most locations don't list prices directly on the website, so you'll need to call or email to find out.
Looking to get a general idea of Club Pilates's costs? Single classes typically range from $25 to $49, depending on where you live, according to a brand rep. You can also purchase a membership of four classes, eight classes, or unlimited classes per month. Memberships will give you the lowest per-class price, but there's usually a three-month minimum (and a fee of about $100 if you cancel early). Many studios also offer packs of five and 10 classes, too, if you want a more flexible option that's cheaper than buying classes one by one.
Some Club Pilates locations also offer private training sessions, which is a great idea if you're looking for help with an injury or you want to learn how to use the reformer with more individualized support. If you're hooked on the practice, you can also buy a prepaid annual membership or the Passport all-access membership, which allows you to book at any Club Pilates location in the country.
To give you an idea of how Club Pilates membership prices vary, one Redditor who claimed to manage a Club Pilates said in the r/Pilates subreddit that their local studio charges $109 for four classes per month, $199 for eight classes per month, $229 for unlimited, and $279 for the Passport membership. Meanwhile, another Redditor who said they live in Los Angeles shared that their local studio charges $120 for four classes per month, $230 for eight classes per month, and $270 for unlimited.
Can You Try a Club Pilates Class For Free?
Yes! No matter which location you visit, you can get a 30-minute introductory class for free.
Can You Take Club Pilates Classes Online?
Club Pilates is part of Xponential Fitness, a global franchise group of boutique fitness brands including Rumble Boxing, CycleBar, Pure Barre, YogaSix, and Row House. You can stream classes from Club Pilates (and all the other Xponential brands) online through the Xponential+ App ($30 per month or $120 per year, after a seven-day free trial). You can sign up online or talk to your local studio to get set up.
Are There Any Other Club Pilates Costs to Know About?
You'll need to wear a pair of sticky or grippy socks for class; they help you maintain a good grip on the reformer. If you don't have grippy socks, you can buy some from your Club Pilates studio. A pair will typically cost $15-$20, but you can also find cheaper multipacks on Amazon.
Image Source: Courtesy of Club Pilates