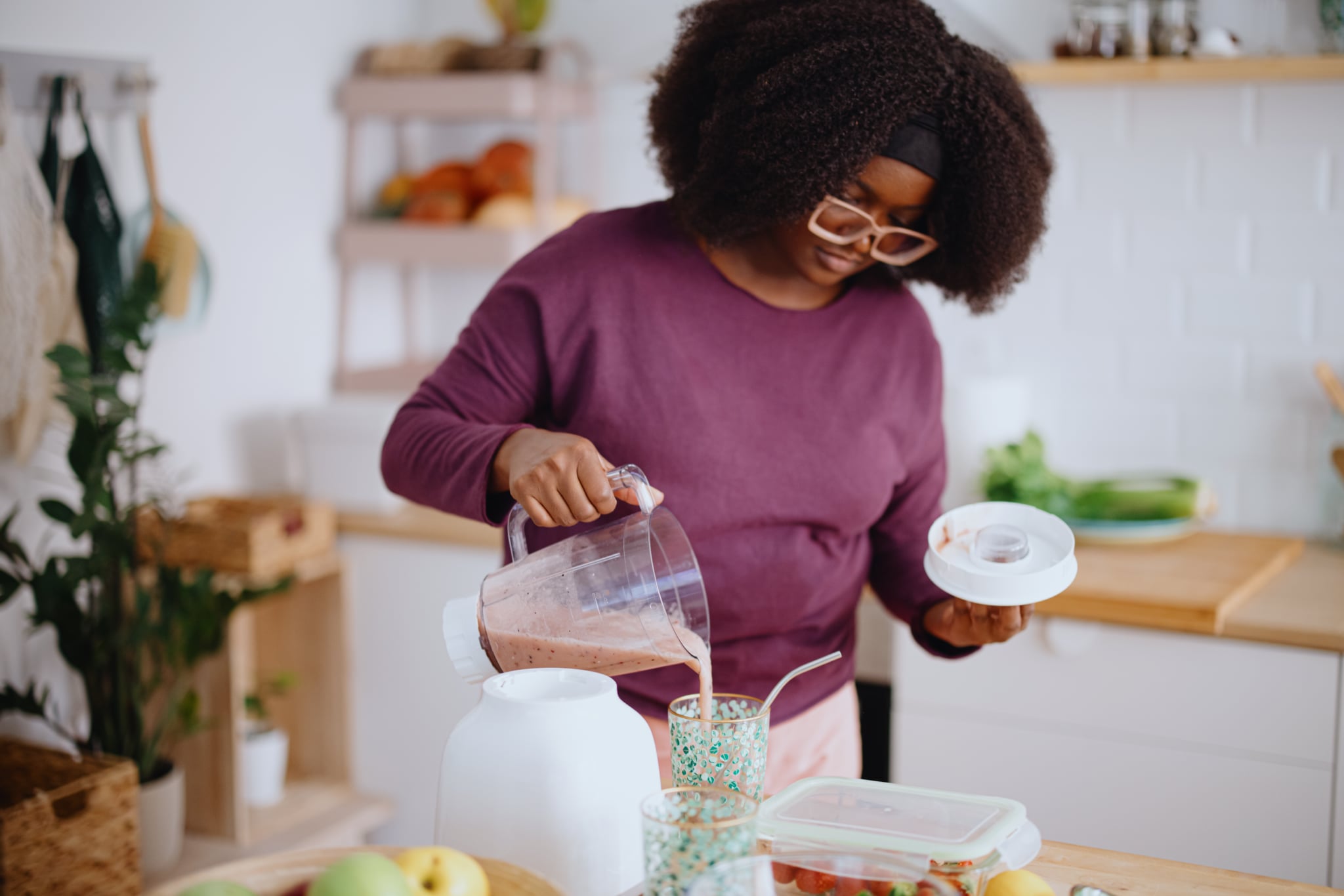 Smoothies are undeniably great. They make for a portable, lightning-fast meal that takes zero culinary prowess and can still taste incredible. Not to mention, the flavor options are pretty much endless.
But if you're whipping up a smoothie with the intention of it being a filling breakfast or a post-workout snack, you'll need to make sure there's some protein in there. The nutrient is important for helping you recover from workouts and build new muscle, as well as keep you full until your next mealtime rolls around. Depending on your body, lifestyle, and goals, you need anywhere from 50-175 grams of protein per day.
To get enough protein in your smoothie, you might feel like protein powder is non-negotiable — but that's absolutely not the case. You don't need to use protein powder to make a high-protein smoothie or one that'll leave you satisfied. After all, protein powders can be pricey, and it's hard to know exactly what you're getting in any supplement product you buy. (Dietary supplements aren't closely regulated by the Food and Drug Administration, so there's no way to know if a protein powder contains what brands claim. Even more worrisome, research has found that many protein powders contain toxins with links to cancer and other health conditions, per Harvard Medical School's Harvard Health Publishing.)
The good news is that there are plenty of nutritious and inexpensive whole-food sources of protein you can easily add to your smoothie. Better yet, they either don't distract from the flavor of the fruits (or whatever else you're blending) or add a delicious extra element (hey, peanut butter!).
Grab your blender: to inspire your next smoothie, we've listed lots of ingredients that serve as the ideal protein addition for smoothies. Even better, you probably have some of these in your pantry already.
Ingredients to Add Protein to Smoothies
Nut Butter: Not that you need another excuse to add peanut butter or almond butter to your smoothie, but know that two tablespoons can add seven to eight grams of protein (seven for almond; eight for peanut).
Tofu: This soy-based food adds a thickness reminiscent of a frosty shake, but it also adds 10 grams of protein for every half-cup you add to your smoothie. Bonus: It'll take on whatever flavor you add in, whether it's vanilla, chocolate, cinnamon, or fruit. You can use any type, but silken (aka soft) tofu tends to blend the best, and firmer tofu tends to have more protein.
Beans: Toss some legumes into your blender to add more protein to your favorite smoothie. Yes, really: we mean beans. Whether you choose chickpeas or cannellini beans, you'll get roughly three to four grams of protein added to your smoothie. (And, trust, you can't taste them.)
Cottage Cheese: Adding nutritious cottage cheese to your smoothie can give it a surprisingly milkshake-like consistency and flavor. Depending on the variety, it can have even more protein than yogurt, with 12 grams per half-cup serving.
Greek Yogurt: A staple protein-smoothie addition, Greek yogurt is a great base for fruit-flavored smoothies, whether a berry blend or tropical concoction. It also adds roughly 10 grams of protein.
Coconut Milk: Make things tropical with creamy coconut milk (the kind that comes in a can); it has five grams of protein per cup, and pairs nicely with other tropical fruits like mango and pineapple.
Cow's Milk: If you can tolerate dairy, straight-up cow's milk is a surefire way to add protein and creaminess to your glass, with eight grams per cup.
Soy Milk: If coconut milk has too much taste for you, and you're not a dairy girlie, soy milk is your best choice for using milk to up your protein in smoothies. Unsweetened soy milk has about seven grams of protein per cup.
Flaxmeal or Flax Seeds: While not necessarily a protein powerhouse per se, a couple tablespoons of whole flax in your smoothie will up your protein content by about four grams.
Chia Seeds: Sprinkle some chia seeds into your smoothie and stir up a fiber- and protein-packed treat. With about five grams of protein per ounce, they'll up the nutritional profile in a way that won't affect the flavor of your shake, but will add some satisfying texture.
Hemp Hearts: Hemp hearts are easy to keep in your pantry and come loaded with nutrients, including 10 grams of protein, 12 grams of fat, and 3 grams of fiber in just three tablespoons. Not to mention, they add a bit of texture and richness to your smoothie that you're sure to love.
Spirulina: If your favorite kind of smoothie is as green as it gets, spirulina could be the easy smoothie protein addition you're looking for. Two teaspoons of spirulina powder contain six grams of protein, not to mention some iron and niacin as well.
— Additional reporting by Lauren Mazzo
Image Source: Getty / Anchiy