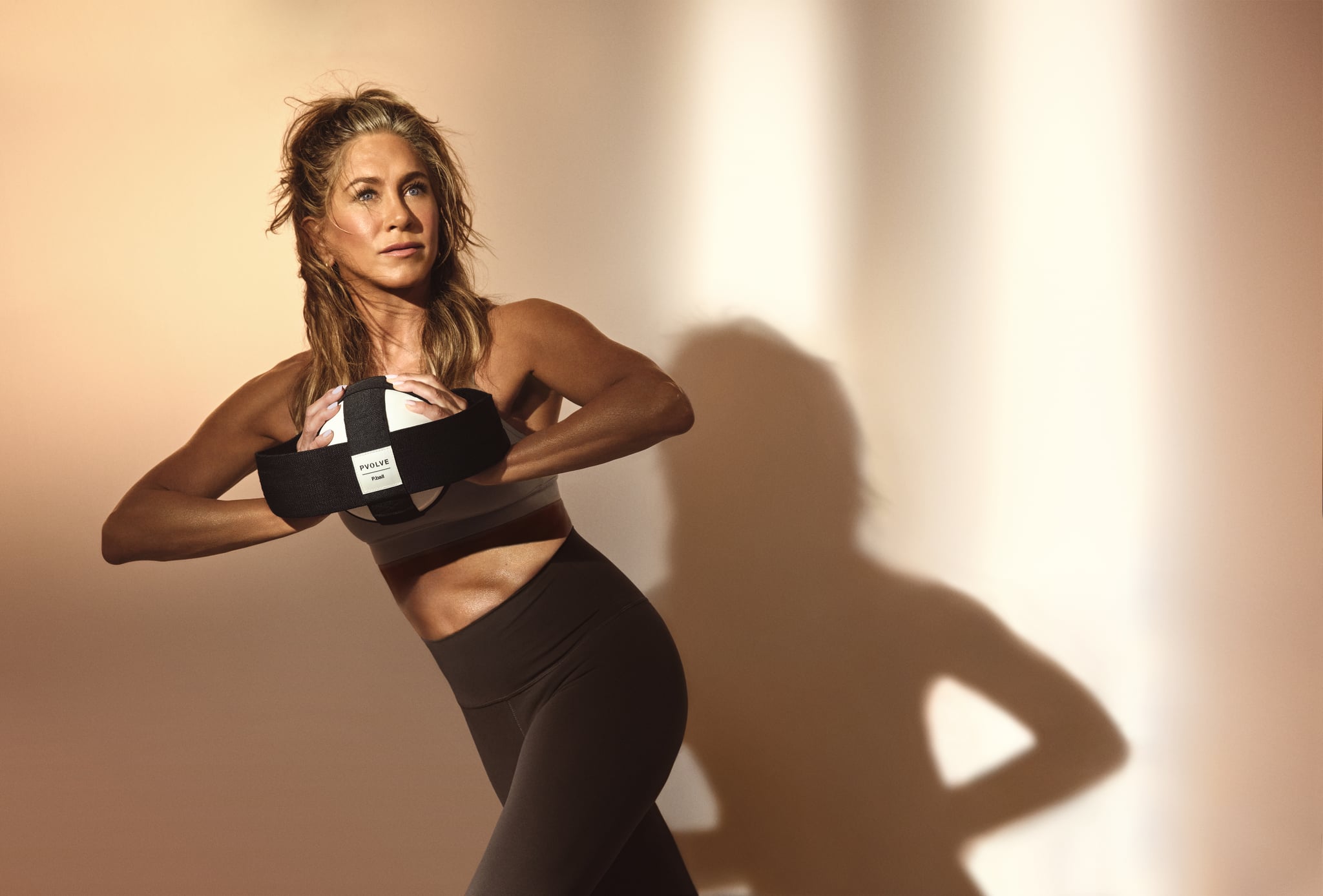 Minutes into my first conversation with Jennifer Aniston, she complimented my hair — which I still can't quite believe. (She really is that nice.) What I can believe, however, is that she really, really loves Pvolve.
Aniston is such a believer in the Pvolve workouts that she not only gifted it to her entire inner circle this past holiday season, but she's also officially joined the brand, a low-impact functional fitness method that falls somewhere in between Pilates and straight-up strength training. She's partnering with the "extraordinary group of women at Pvolve" (her words) to help create awareness around the brand, make it more accessible, and spread the magic of the method — and I have a sneaking suspicion it's going to work. (Heck, she hooked me before we got 10 minutes into our Zoom call.)
Aniston first started working out with Pvolve in 2021. It was more than a year into the COVID pandemic, and a moment when "the mood was not great . . . we weren't taking care of ourselves," Aniston admits. So when she reunited with a friend who was looking particularly incredible, Aniston took notice. "She showed up one day and her whole body had transformed, and I couldn't believe it — and I've known her for over 20 years," Aniston says. "Her energy level, her mood, her everything was just [transformed]."
"I used to really be way more aggressive on myself than I needed to be. Less is more, honestly. Also, less is more effective."
Soon after, Aniston injured her back while filming a movie, and when she got home she decided to give Pvolve a shot — at the encouragement of the same friend. "She just said, 'I really think you should try Pvolve, because wherever your body is at, you can still work out,'" Aniston tells POPSUGAR. "You don't have to sit it out for weeks on end, which I would any time I'd have an injury, which was quite often. I would have to not work out and it would drive me bananas because I need [exercise]."
Aniston started slow with easy, 20-minute workouts via the brand's streaming platform and immediately loved the style. "I felt so energized and also dripping in sweat, but I didn't feel like I broke my body," she says. ("Break a sweat, not your body" is, in fact, one of Pvolve's taglines.) "I wasn't exhausted or incredibly fatigued to the point where I'd be like, 'Oh god, I just don't want to do that again.' I got excited," Aniston continues. "So then I did a little bit more the next day, and then decided I could do another 20 minutes today, and all of a sudden, by the end, you've done four 20-minute classes and feel great."
Pvolve founder Rachel Katzman, who has scoliosis, created the method in part because she wanted a workout that would challenge her "without aggravating her body's sensitivities," per a release from the brand. Using resistance-based equipment, the method takes you through all ranges of motion (side-to-side, front-to-back, and rotational) and activates major and surrounding muscle groups to improve strength, mobility, and stability.
And, frankly, it's primed for a glow-up right now. Low-impact workouts like Pilates are in the limelight after years of a fitness culture that glorified intense exercise and a "harder is better" mindset. Just like the rest of us, Aniston has been along for that ride, too.
"I used to really be way more aggressive on myself than I needed to be," Aniston says. "Less is more, honestly. Also, less is more effective."
This is especially true for anyone first starting a workout routine, coming back from a hiatus, or recovering from injury. Methods like Pvolve that focus on a mind-muscle connection and building foundational strength can be hugely helpful in progressing at a safe speed versus going too hard, too fast.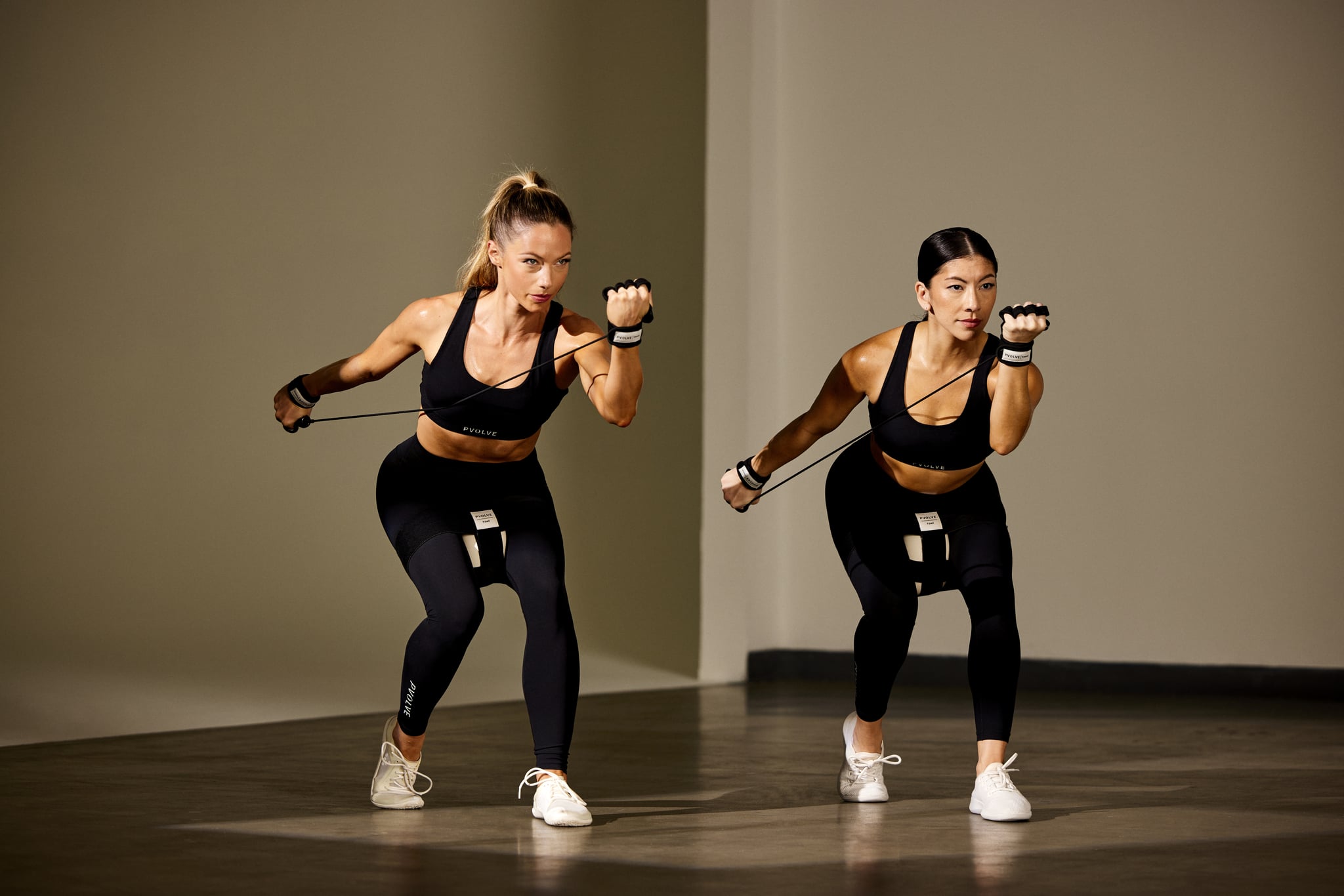 Image Source: Courtesy of Pvolve
The ultimate test, really, was the fact that Aniston could start the method while recovering from a back injury. "Anybody who's intimidated by starting a workout because it feels too daunting or because they're 'too far gone,' it's not [the case with Pvolve] . . . You can start small, you can curate your workout," she says.
And it doesn't take much or any equipment, though some of Pvolve's signature offerings employ patented equipment unique to the brand: Aniston is a big fan of the P.band ($40), a resistance band that's attached to gloves; the P.ball ($70), a Pilates ball nested inside a fabric mini loop resistance band; and the Precision Mat ($100), which offers nonslip position markers to help you find perfect form. Aniston says she tucks these things into her suitcase so she can do Pvolve workouts wherever she goes. Because in addition to learning that less is more, she's also of the mindset that anything is better than nothing when it comes to working out.
"I've always had that mindset of like, if you've only got 20 minutes, just move your body for 20 minutes," she says. And with Pvolve, she feels a difference even in that short period of time. "I can get a full-body workout and a full-body sweat and feel like I did it — and I don't feel guilty or bad that I didn't do a whole hour or I didn't do it six to seven days a week. Because really, our bodies, we don't need to push them that hard. They will respond to anything — you can do anything for 10 minutes, you can do anything for 20 minutes. You just have to give it to yourself."
In addition to streaming workouts, Aniston has also started training in person with Pvolve's director of training and head trainer, Dani Coleman.
Considering how much she loves it, Aniston couldn't figure out why no one else was talking about Pvolve. "I didn't understand — it was like, why did I not know about this?" she says. Eventually, she reached out to the brand to let them know she was a fan and wanted in on making Pvolve big. And now, she's putting in the work, weighing in on the company's marketing, product, and programming and using her platform to make sure we all know just how amazing Pvolve can be.
You can try Pvolve workouts via its online streaming platform (which offers both on-demand and live classes) for seven days free, then sign up for a membership at $15 per month. If you choose to buy an equipment bundle — such as the Signature Bundle ($200), which includes the aforementioned three products — you get 30 days free; and if you're not loving it as much as Aniston, you can get a full refund. If streaming isn't your style, you can also head to a Pvolve studio near you to take classes IRL. Celeb sightings not guaranteed.
Image Source: Zoey Grossman