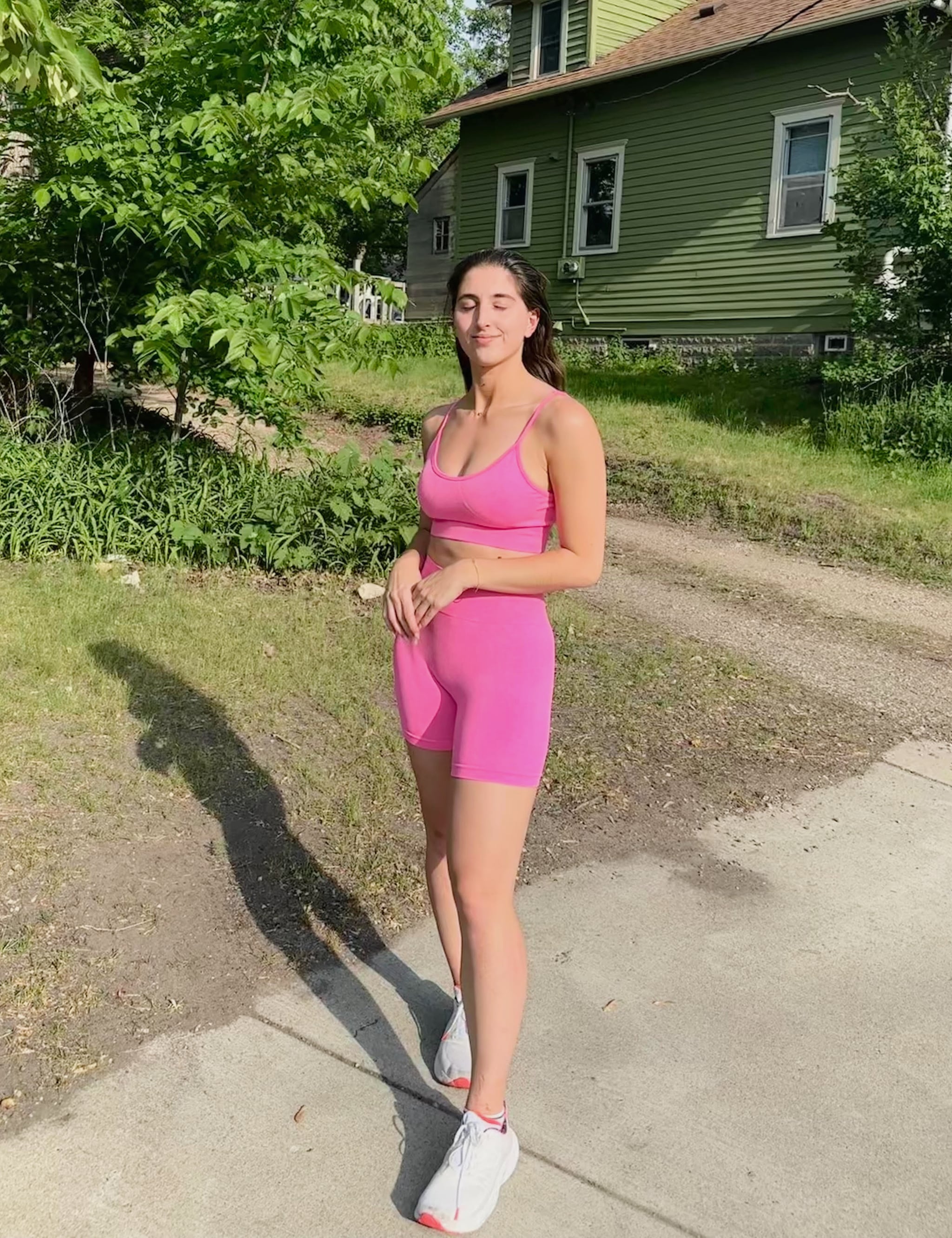 It's been a while since I've splurged on workout gear from Amazon. As a self-proclaimed Old Navy activewear enthusiast and Lululemon leggings loyalist, I haven't felt the urge to hit that "Add to Cart" button in ages. But a few weeks ago, I found myself craving some fresh mix-and-match pieces to elevate my workout wardrobe. I had a hunch that a three-piece set could do the trick, so I dove into the depths of Amazon and stumbled across the Iwemek Three-Piece Workout Set ($35, originally $60), available in 11 colors. The vibrant hot-pink option immediately caught my attention, and the rest is history. I added it to my virtual shopping cart in a size medium. Curious to know how it turned out? Keep reading for my honest thoughts.
What I Love About the Iwemek Three-Piece Workout Set on Amazon
Crafted from a blend of nylon and spandex, this three-piece workout set boasts a soft and stretchy feel that allows for unrestricted movement. But what truly sets it apart, in my opinion, is the vibrant hot-pink color, which is undeniably eye-catching, mood-boosting, and all-around perfect for summer.
The fit of each piece is ideal, too. The spaghetti-strap top has removable pads for enhanced structure and support, as well as adjustable straps for a customized fit that feels just right. I personally prefer wearing this top during low-impact walks when I don't require extensive support. For my high-impact runs, I opt for the short-sleeved version without pads and wear it with a sports bra so I'm completely held in.
The shorts in this set are equally impressive, featuring a flattering high-rise fit and a five-inch hemline that offers ample coverage without feeling restrictive. Personally, I found them to be squat-proof, and it seems that many others share the same sentiment. However, it's worth noting that a few shoppers have reported a slight sheerness in lighter-colored options, so it's important to be mindful of your color choice.
What's Worth Noting About the Iwemek Three-Piece Workout Set on Amazon
Considering the vibrant hot-pink shade of this workout set, it's important to exercise caution when washing it alongside your other garments. While the brand doesn't provide explicit washing instructions, some shoppers have reported color changes after a few washes. To preserve the color, it's advisable to either hand wash and hang dry the set or, at the very least, wash it separately in the machine to prevent it from bleeding onto your other clothes.
Who Is the Iwemek Three-Piece Workout Set on Amazon For?
This three-piece workout set is a must have for those who appreciate activewear that seamlessly transitions into athleisure. I've been incorporating both tops and the biker shorts into my daily routine, whether working from home, running errands, or racking up mileage during indoor and outdoor walks. Its versatility knows no bounds when it comes to low-impact workouts and lounging, and it certainly helps that it's stylish, too.
Additional Details About the Iwemek Three-Piece Workout Set on Amazon
This workout set is made of 90 percent nylon and 10 percent spandex.
If you don't need the three-piece set, the brand also offers traditional two-piece sets in both long- and short-sleeved options.
This set is available on Amazon Prime, which is ideal if you need it fast.
Image Source: POPSUGAR Photography / Marisa Petrarca