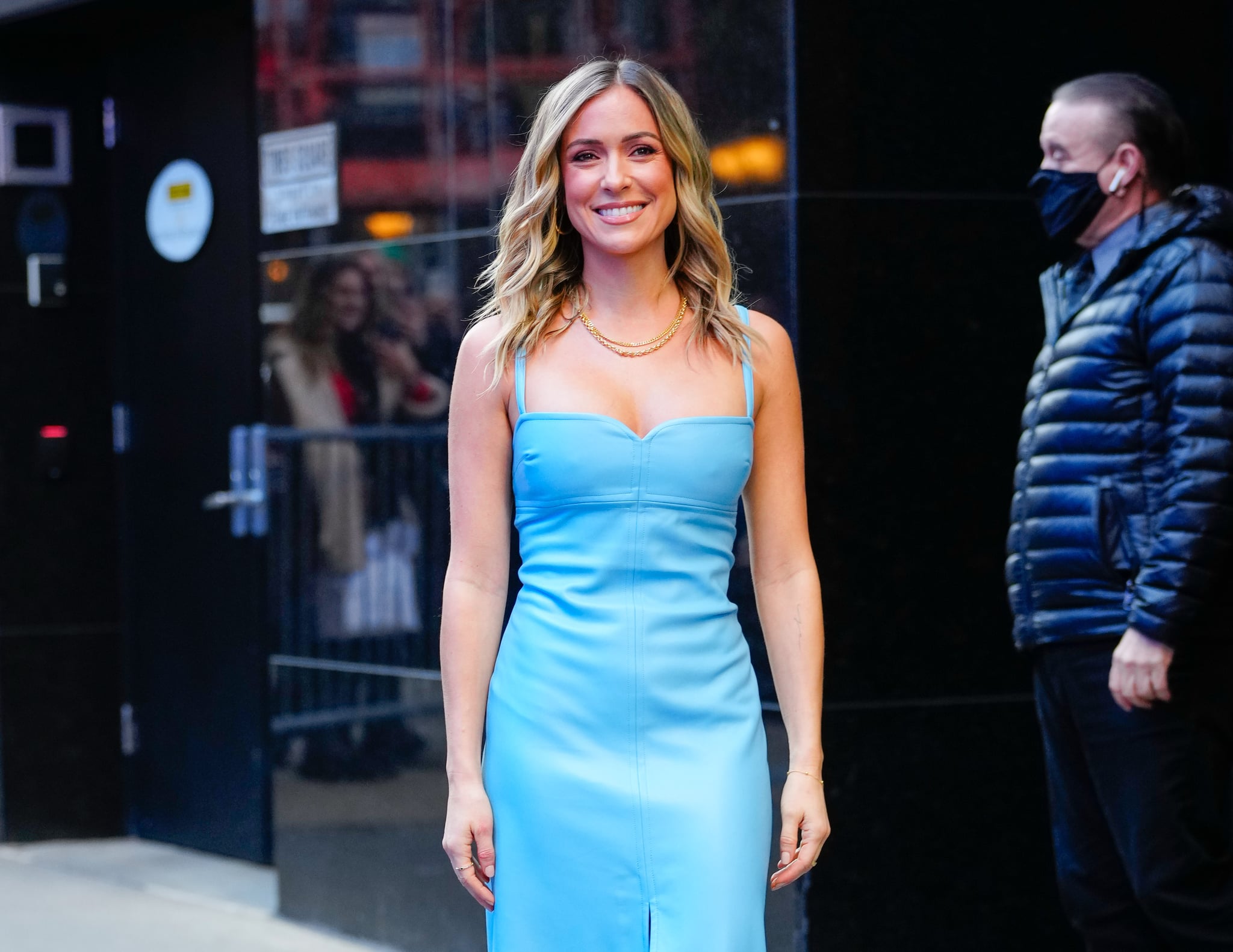 Kristin Cavallari plays to her strengths. In a TikTok posted on May 25, the designer and mother of three walked her followers through a "typical workout" from the comfort of her home gym, showing off some of her heavy strength training. Beginning with 10 minutes of cardio on the stairmaster, Cavallari demonstrated each exercise in full, using resistance bands to help warm up further. Starting with her arms, she stretched a band diagonally across her body, before using the same equipment to pull directly across her chest.
"It's going down," Cavallari captioned an Instagram Reel with the same video, and she wasn't lying — this was only the beginning. She did a few one-legged squats with the bench as a guide, and then moved on to weights, back squatting sans shoes, much to the chagrin of the comments section. "So far no problems," Cavallari assured her worried fans in reference to her bare feet, before moving on to some heavy KAS glute bridges. Here, she balanced the barbell on her hips and thrusted upwards, repeating the movement without lowering all the way to the ground (as you would with a weighted hip thrust). We broke a sweat just watching her.
With her lower body complete, Cavallari moved on to a single-arm row, holding a dumbbell with one hand, and the bench with another. Nearing the end of the workout, she made sure to isolate her abs with alternating plank dips, and then did four sets of weighted back extensions. Finally, she got her heart rate up with overhead slams using a weighted medicine ball, and did cable face pulls to target her shoulders and upper back.
According to Cavallari, she usually does this strength-focused routine three times a week, but she likes to alternate some of the exercises every now and then. "I'll continue to post workout vids. Also I do one day of cardio (30mins)," she added in the comments of her TikTok. "Will you be my trainer??? Haha I wish we lived closer!!!" wrote "The Hills" costar Audrina Patridge after watching Cavallari's regimen. Read on to see Cavallari's impressive strength training in action, and give her workout a try yourself.
Kristin Cavallari's Typical Workout
Warm Up: Stairmaster for 10 minutes, resistance band shuffle
Exercise 1: Diagonal arm resistance bands, 3 sets of 15 reps each arm
Exercise 2: Horizontal arm resistance bands, 3 sets of 15 reps
Exercise 3: Single leg squat, 3 sets of 12 reps each leg
Exercise 4: Back squat, 4 sets of 6 reps
Exercise 4: KAS glute bridges, 4 sets of 12 reps
Exercise 5: Single-arm row, 4 sets of 12 reps
Exercise 6: Alternating oblique dips, 4 sets of 18 reps
Exercise 7: Weighted back extensions, 4 sets of 15 reps
Exercise 8: Weighted overhead slams, 4 sets of 15 reps
Exercise 9: Cable face pulls, 4 sets of 12 reps