Fragrance is the first impression you quietly convey, used to express your ever-changing moods, contrasting personas, and cherished memories. Does the invigorating burst of punchy citrus instantly revive your soul? Or do the depths of damp woods and zingy spices stir your senses awake? Welcome to ELLE Noteworthies, a collection of scent-imental musings, including a definitive guide to the finest fragrances we've encountered this year, poised to accompany you as you create new scent memories.
---
The first bottle of perfume Mona Kattan ever owned was Flower by Kenzo.
"My dad brought it back for me after one of his work trips," she shares. "I still love it to this day because that memory is so significant."
Significant is one way you could describe Kattan's feelings toward fragrances. Obsessed, connoisseur, and super-collector are a few others.
Some background: Mona is a member of that Kattan family. You know, the Dubai-based, Iraqi-American trio of sisters (there's also Huda and Alya) that built a billion-dollar beauty empire. Middle sister Huda set her sights on makeup in 2013 and released a collection that started with lashes and is now available at Sephora; elder sister Alya's the social media manager who helps spread the messaging to more than 52 million followers.
"Fragrance has always made me so happy," says the baby of the family about her passion. "It's an act of self-love." The first bottle she purchased for herself was Curve by Liz Claiborne at age 14. "I bought it at my local CVS. I felt so grown-up, to finally own my own fragrance; it was like a symbol of womanhood. To this day, that scent still brings me right back to those early teen years."
Now, she's 4,000 bottles of perfume deep into her passion. Yes, you read that right, 4,000. As in, it would take her almost 11 years to wear every fragrance if she only used each bottle in her collection once.
"I keep them all in my custom fragrance library in my basement. It's nice and cool, and the fragrances are organized on specially made shelves, grouped by brand, so it's easier to find the juice I am looking for! I'm super specific about how I organize them because I don't want to lose track of any."
Nice and cool is actually a cardinal rule when it comes to fragrance preservation—especially in a city like Dubai, where fragrances have hit 131°F before. Keeping fragrances out of direct sunlight and somewhere temperature-controlled will preserve the juice inside, whether it's one of a major collection or your signature scent.
It's also research. In 2018, Kattan started adding her own juices to her collection under the brand Kayali. "As someone of Middle Eastern heritage, one of the reasons I started KAYALI was to share the love and ritual of fragrance layering with the world," she says.
For Kattan, life is no longer about a signature scent. Instead, "I have a signature fragrance family. I lean more into the floral, spicy, and sweet scent profile," like her brand's eau du parfums Déjà Vu (a scent inspired by her mother) or Only Amber.
Even with over 4,ooo fragrances, Kattan shares that there is actually something missing from her collection. "This might sound crazy, but I have been trying to get my hands on the Elon Musk' Burnt Hair.' I ordered it six months ago and I'm still waiting for it to arrive!"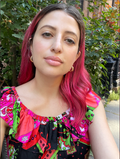 Beauty Editor
As ELLE's beauty editor, Margaux wants to try it all and do it all…and she does. She's not afraid to chop, slather, dye, swipe, inject, and more—and if it's worth your time and money, she'll rave about it here.