Fragrance is the first impression you quietly convey, used to express your ever-changing moods, contrasting personas, and cherished memories. Does the invigorating burst of punchy citrus instantly revive your soul? Or do the depths of damp woods and zingy spices stir your senses awake? Welcome to ELLE Noteworthies, a definitive guide to the finest fragrances we've encountered this year, poised to accompany you as you create new scent memories.
---
New York-born apothecary brand C.O. Bigelow has an entire body care line dedicated to the scent of musk. I discovered the line while perusing the curved shelves at Paris's very cool Dover Street Parfums Market, along with something else: The products had absolutely no smell to me.
This was in the fall of 2019—mere months before the world would be ravished by coronavirus and the side effect anosmia, or loss of smell, would become such a widely known issue—so I was completely confused.
I confirmed with a very French, very annoyed shop girl that non, the product was très fragrant. So, oui, I was the issue. Great.
Musk and the perfume world go all the way back to the 6th century. The original form of the ingredient was harvested from the sex glands of deer—and it even sent certain species like civet cats and musk deers into near-extinction in the 1970s because of it. Animal musk has now been banned from perfume and there have been major strides in the world of lab-made musk, so it lives on as an incredibly popular base note in some of the world's most famous fragrances. Think Narciso Rodriguez for Her, Viktor&Rolf Flowerbomb, and Tom Ford White Suede.
But back to me. At the time, I turned to Google (of course). What was happening?
Like so many things, being nose-blind to musk is a genetic trait. Recessive, in fact, so both of your parents need to be carriers of the gene if you're going to not be able to smell the scent. Thanks, Mom and Dad. In the world of scent molecules, different notes come in different sizes—and apparently musk is big. Musk anosmia has been studied since the 1970s, when scientists found nose-blindness to musks could range from not being able to smell gorgeous purple-and-yellow freesia flowers to the life-damning spray of a skunk (lucky for those people… I can confirm that version of musk still comes through loud and clear in my nasal passage).
Cue the work-related crisis: Have I been smelling every musk-blended fragrance totally different than the rest of the world? (Yes.) Does every perfume I love and wear smell different than I perceive it to? (Also, yes.) Do I wear strange-smelling fragrances because of this and actually smell terrible? (I asked basically all my friends, and they're either very polite or the truth is, no.)
"Anosmia to certain musks is quite common," says Dara Quinlan, vice president of Fine Fragrance Development at Firmenich, the perfume house that brought classics like Mugler Alien Goddess, Yves Saint Laurent Black Opium, and By Kilian Good Girl Gone Bad to market. Then, an assurance came. "I, myself, have anosmia to certain musks, as do some top clients of ours. We can smell the effect that musks have in a fragrance, and that is the important part. Even if one cannot smell the particular musk molecule, their influence, and effect—be it creamy, powdery, airy, skin-like, etc.—is perceptible."
Phew. So I'm not a fraud.
Elise Grenier, who reviews fragrances on TikTok under the name Elise Loves Smells, discovered her musk anosmia the first time she smelled Not A Perfume by Juliette Has A Gun. "It just smelled like rubbing alcohol," she says, adding that she has the same scent-less issue with Le Labo's Another 13 and Phlur's Missing Person. "I do worry a little about if my followers will disregard my opinions on fragrance because my nose isn't as acute as someone who can smell all the synthetic musks; however, not all of my followers can smell them either. I've leaned into my ability to suggest alternative musky fragrances." Her recommendation? Try Lake and Sky 11 11, a salty amber reminiscent of a day at the beach.
Since my 2019 discovery, I started a list of fragrances I know I can't smell: Glossier You could basically be a glass of water it's so odorless; Byredo's Blanche has a barely perceptible note of violet. But fragrance consultant LC James, who also used to work at a perfume store, gives me hope.
"A single-note [musk] scent probably just has an aroma that's just too chunky for someone's dainty olfactory receptors if they can't smell it," says James. "But musks are kind of like red lipsticks; there's one out there for everyone. You just have to do some trial and error until you find it."
Time to take a trip back to Dover Street Parfums.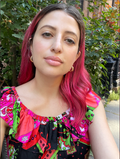 Beauty Editor
As ELLE's beauty editor, Margaux wants to try it all and do it all…and she does. She's not afraid to chop, slather, dye, swipe, inject, and more—and if it's worth your time and money, she'll rave about it here.