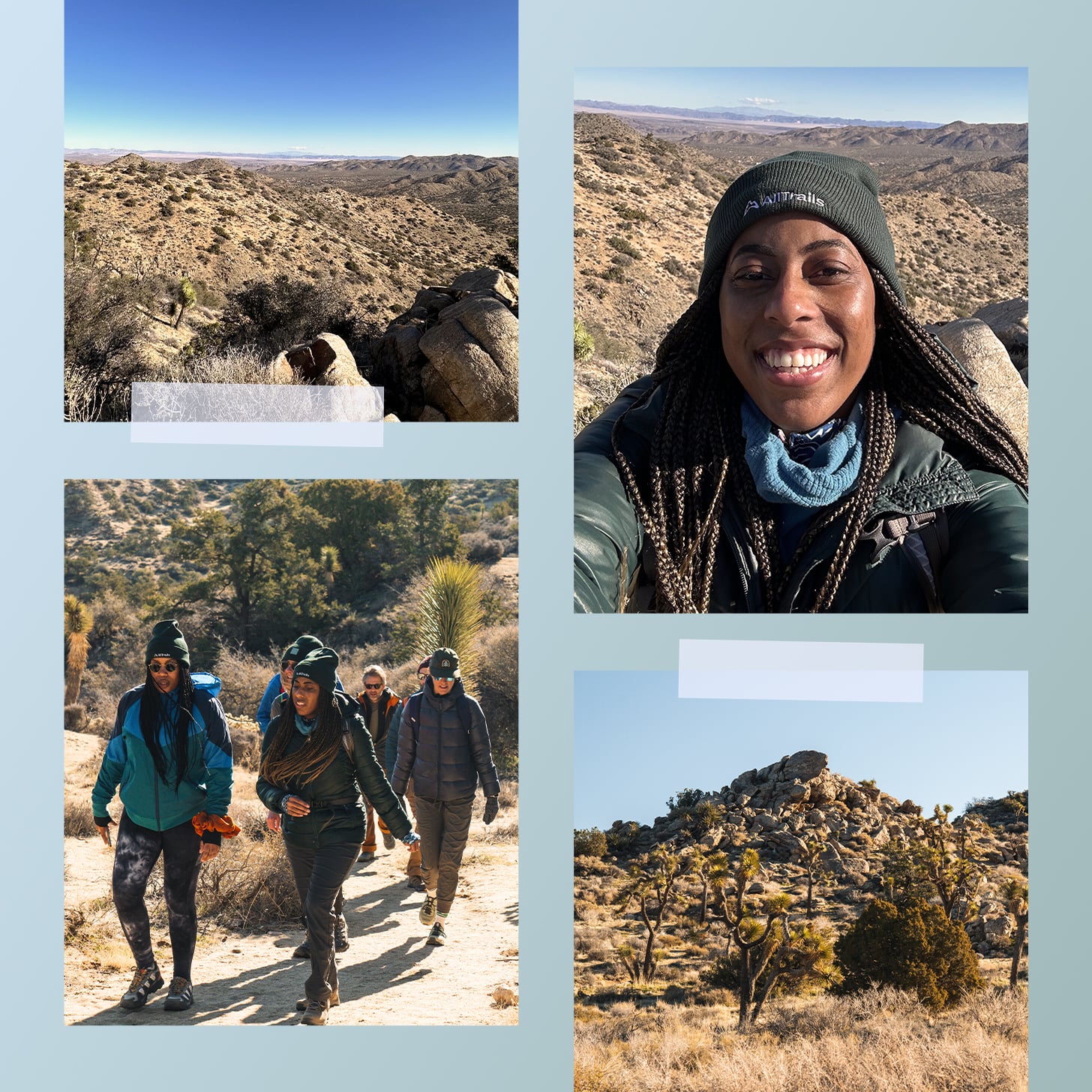 Image Source: Image Source: Matt Giesting, Alexis Jones, Photo design: Aly Lim
I am not a hiker. In fact, I'm barely a walker. I was born with mild cerebral palsy, which, for me, means I struggle with balance, often experience muscle stiffness, and sometimes have difficulty putting one foot in front of the other. Plus, I'm naturally clumsy. I trip often and unexpectedly. Yet, when I received an invite from AllTrails, a trail mapping app, to join them on a trip to Joshua Tree, CA, centered around a weekend of hiking, I said yes.
"The Outside in All of Us," the invite read — and something about that resonated with me. If I had to guess why, I'd say it's because when it comes to athletics, I've always felt somewhat discounted. It could have been my tennis coach, who continuously told me I wasn't "match ready," or the swimming instructor who said that my legs weren't strong enough for kicking. Luckily, I tend to take after my mother, who has a chronic condition of her own. She's always encouraged me to forge my own path — along with a slight sense of delusion that I can do anything. Still, sometimes those instances of disregard come to mind and permeate my thoughts around fitness and what I consider myself capable of.
Not this time, though. This trip presented me with an opportunity to prove those intrusive thoughts wrong. And now, having returned home with zero injuries and a newfound penchant for hiking, I feel that it's my duty to share my learnings with others.
1. Buy the Right Gear, but Don't Go Overboard
When I said yes to the trip, I knew that meant a visit to the REI store. If there's one thing I was going to be, it was prepared. The two-day itinerary had listed a hard 1.6-mile hike and a moderate six-mile hike. I figured that dressing the part and having the right gear was half the battle.
I purchased three base layers, two pairs of Prana hiking pants, three pairs of wool socks, a bandana, one fleece pullover, a backpack, and a pair of hiking shoes. The trip was only two days, and, like I said, I'd only be going on two hikes, max. Needless to say, I overdid it.
I wound up going on one hike, the moderate six-mile, and wearing just one of everything. But the must haves were really the hiking boots, which allowed my feet to grip the sandy terrain without slipping, the breathable base layer that kept me toasty warm (it gets colder the higher you climb), the hiking backpack (which was super lightweight and allowed me to carry water, tissues, and lotion with ease), and the wool hiking socks that were both breathable and moisture wicking. Everything else, I could have probably found for less or in my closet.
2. Bring and Drink Lots of Water
On any hike, but especially during extreme weather (hot or cold), you have to stay hydrated. I found myself battling the dry desert winds and having to stop a few times throughout the hike, especially as we reached higher altitudes, in order to catch my breath and take a big gulp (or six) of water to reset. "A good general recommendation is about one half-liter of water per hour of moderate activity in moderate temperatures," REI reports, but you can increase that as temperature and intensity changes. "For example, strenuous hiking in high heat may require that you drink one liter of water or more per hour." A good rule of thumb? Always bring more than you think you need.
3. Don't Forget to Pack Snacks
You will get hungry either during or immediately after the hike, so snacks are essential — especially Pirate's Booty. While trail mix and protein bars are perfectly fine, there's something about shoving your mouth full of those white cheddar cheese puffs while your heart rate calms down post-hike and your lips are still recovering from two hours on dusty terrain. The puffs basically melt in your mouth while your taste buds tingle and your endorphins are still running high. It's a treat.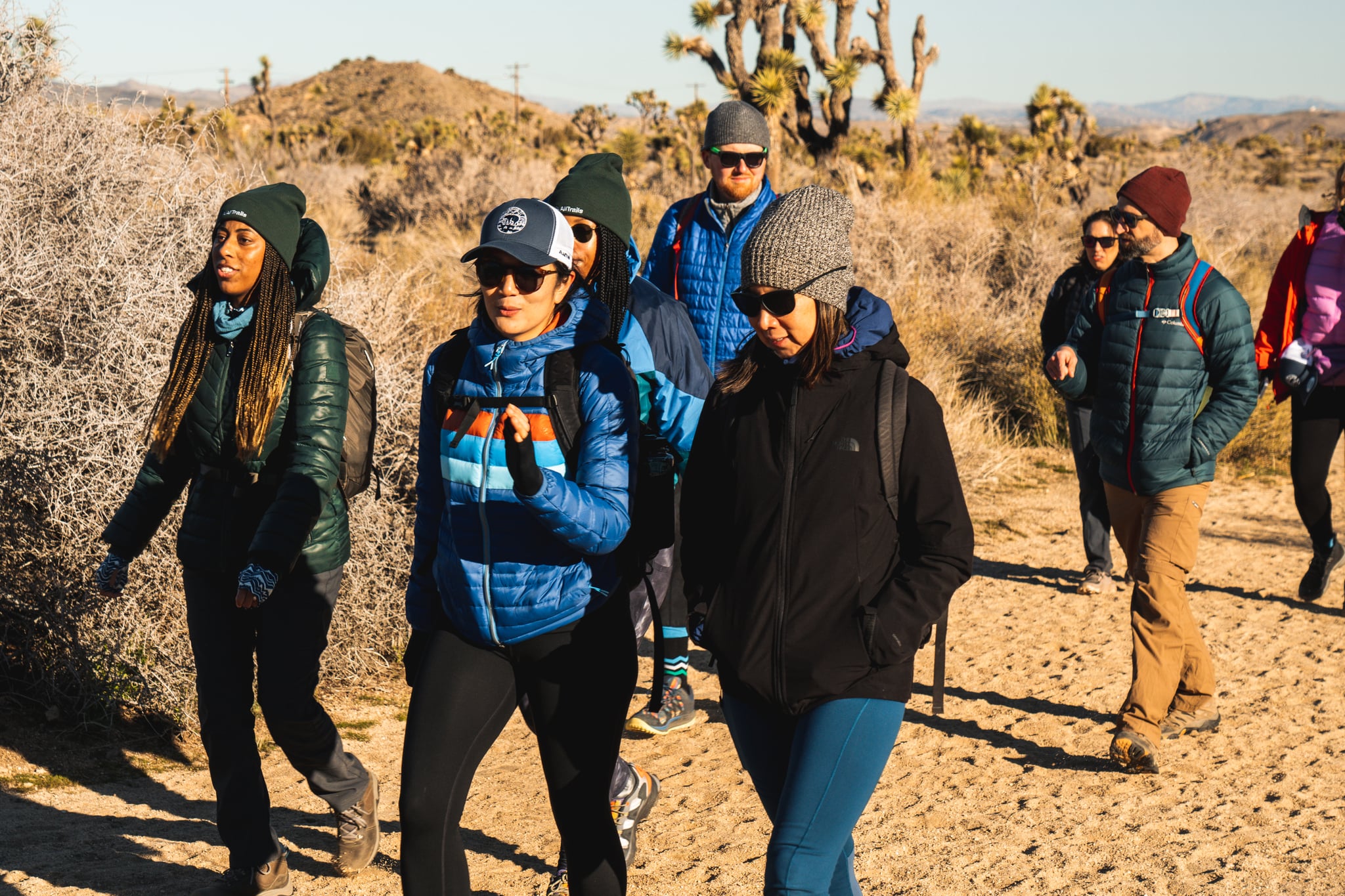 Image Source: Matt Giesting
4. Use a Hiking App to Guide You
While we had AllTrails pros leading the way, we were also able to track the trail and our progress using the brand's app. The app can also tell you the difficulty of the hike beforehand and show you other hikers' recent reviews, so you know what to expect. This quelled a lot of my fears. And being able to follow along in real time on the trail map helped motivate me and stopped me from succumbing to "are we there yet?" syndrome.
5. Try Not to Psyche Yourself Out
The night before the trip, as I was folding hiking pants into my suitcase, I became overwhelmed with anxiety and self-doubt: what if I got injured? What if I couldn't finish the hike? Would it make me look weak to the more experienced hikers? Would I feel like an imposter, being a health editor who'd never hiked a day in her life? I started to talk myself out of going. If it wasn't for my husband giving me one of his signature pep talks, I might not have made it on the plane the next morning.
Fortunately, I arrived in Joshua Tree with a renewed sense of optimism. And as I got to know the other people on the trip, my optimism turned into belonging. On the first night, we had a fireside chat with AllTrails partners and representatives Manny Almonte, cofounder of Camping to Connect, a BIPOC-led mentoring program for young men of color who are often from nature-deprived neighborhoods, and James Saunders, director of operations for The Venture Out Project, which provides wilderness trips for the queer and transgender community. Both Almonte and Saunders emphasized how their organizations pride themselves on forging relationships between people of marginalized communities and nature, one of the few spaces in society that holds zero judgment.
The next day, as I walked alongside journalists, athletes, and hikers from all across the country, with different levels of outdoor experience, I came to realize that the only person questioning my ability to complete this hike was me.
The first 50 minutes went by quickly as we talked about recently binged movies and TV shows while stepping through the sandy terrain. We took photos and videos along the way, documenting the Joshua trees and sun-soaked cacti. The last 15 minutes, as we got closer to the summit, were tough (but I anticipated that from the reviews). By then, my legs were starting to feel like noodles, the wind had picked up, the altitude had been challenging my lung capacity, and the incline up ahead was the steepest we'd experienced thus far. Plus, we'd still have to walk back another hour-plus before completing the hike.
But I channeled my inner "Wild" and just kept reminding myself that people do this all the time. I dug my newly purchased hiking boots into the sand, determined to make it to the first plateau, just before the mountain's summit — and, damn, were the views worth it.
As I stood there, finally having caught my breath, I felt an immense sense of pride — even as I watched the others progress ahead of me to the very top. I was appreciative of what my body had just done for me and reminded that despite its physical shortcomings, it's a lot stronger than I, and at times others, have given it credit for. My greatest takeaway: never be the first person to count yourself out.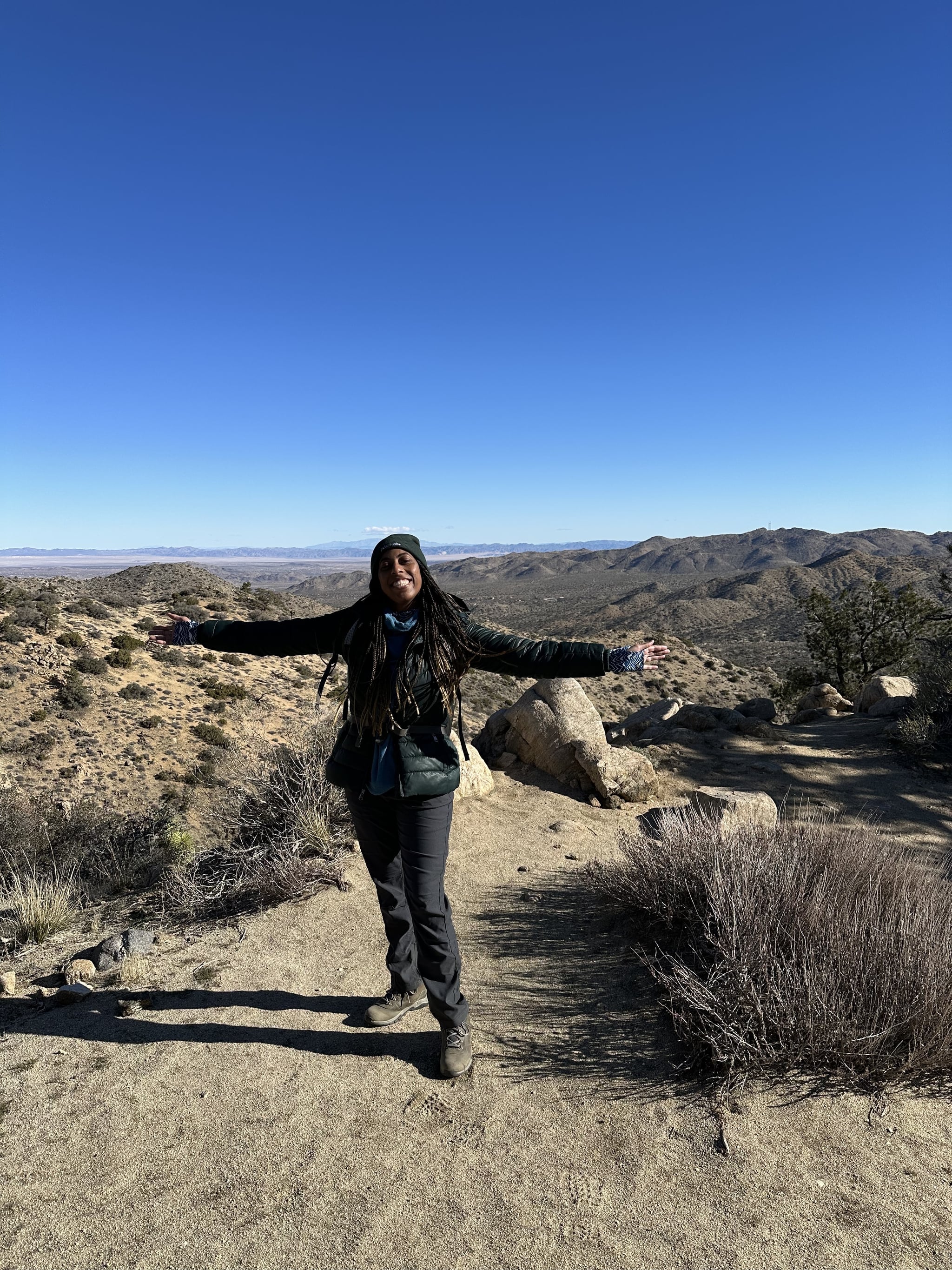 Image Source: Image Source: Matt Giesting Alexis Jones Photo Design: Aly Lim