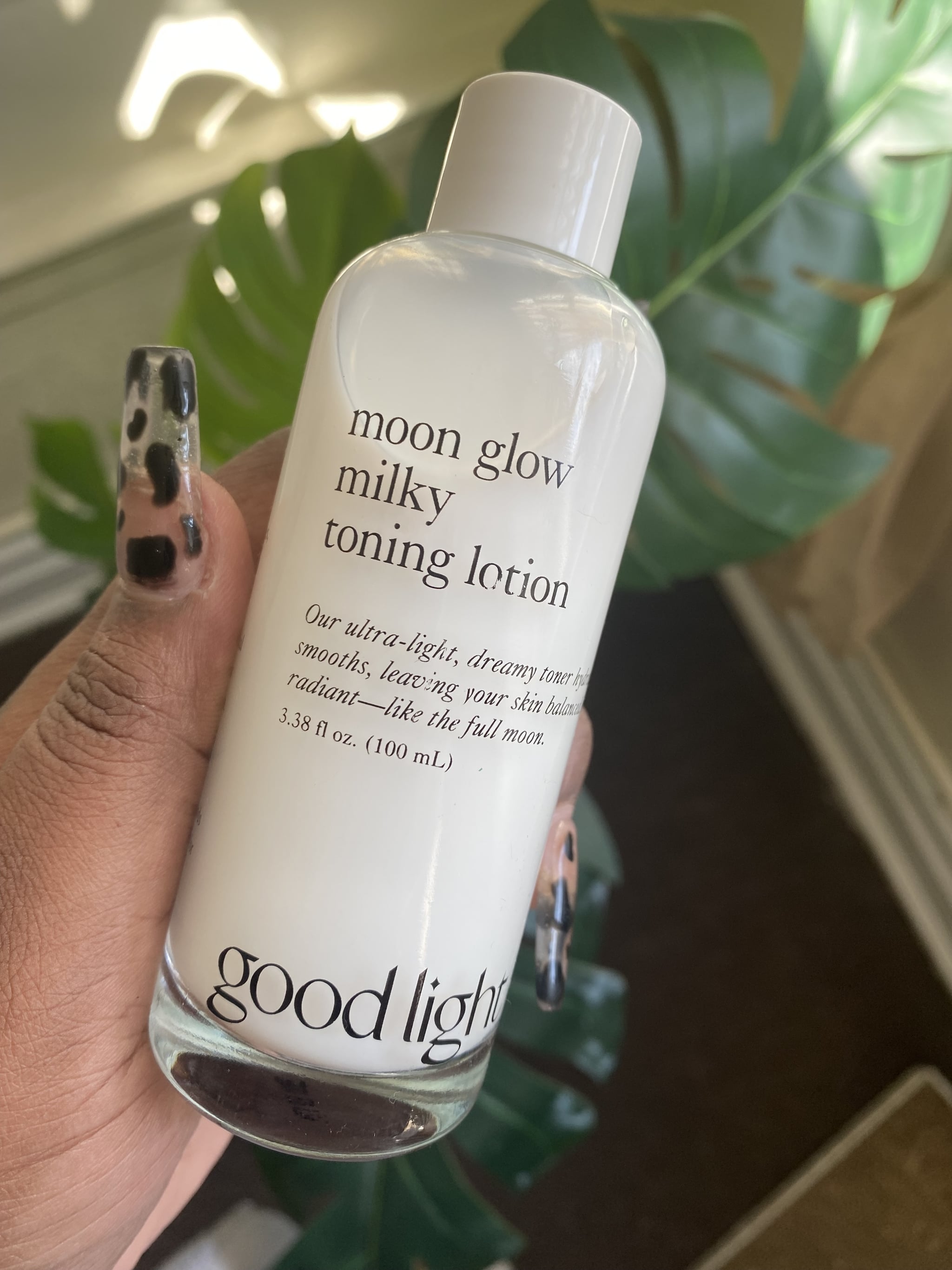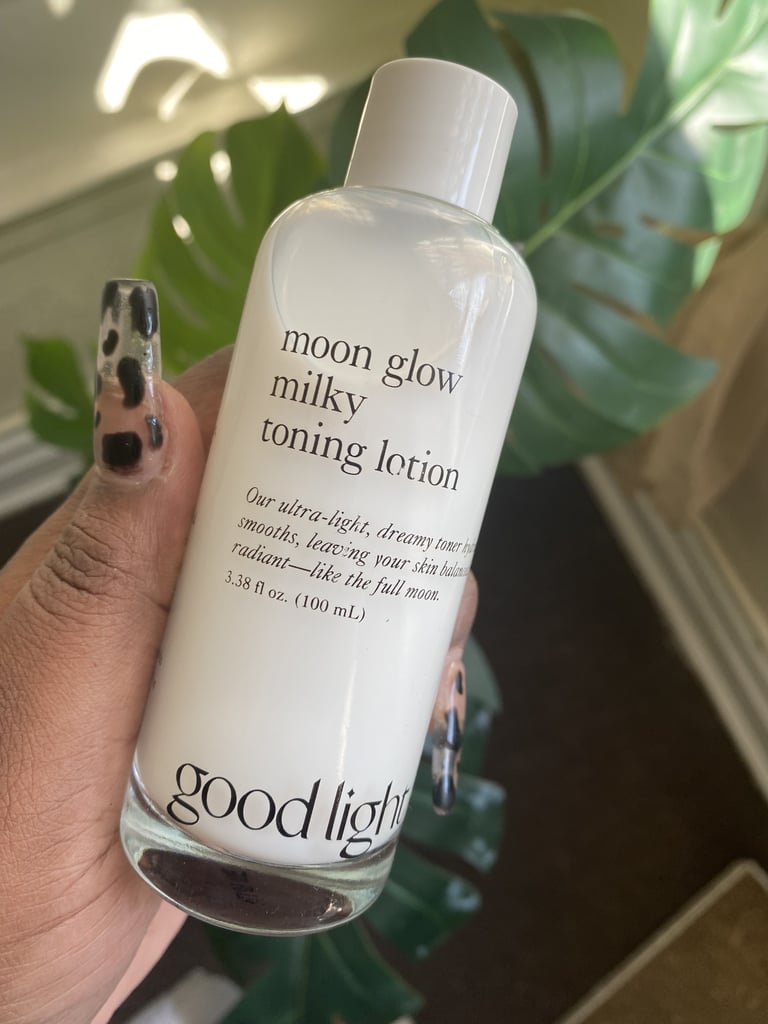 I'm finally taking my skincare routine seriously, so I've been testing out a variety of moisturizers, cleansers, and serums to see what works for my normal-to-dry skin. When choosing my tester products, I consider their unique benefits, sure, but I've also been very intentional on using brands that align with my personal values and beliefs. That is why I was super excited to test out Good Light's Moon Glow Milky Toning Lotion ($22).
Good Light is a fairly new skincare collection, founded in March 2021 by co-founder David Yi. Inspired by Very Good Light, Yi's now popular men's beauty and grooming blog, the line is aimed to redefine men's beauty standards and widen the conversation on masculinity. In an industry hyper-focused on gender, Good Light dares to create a brand that not only includes but celebrates all walks of life, filling a gap in a seemingly saturated billion-dollar industry.
The idea that a brand is going above and beyond the binary concepts of beauty and gender is inspiring and one I can get behind. So I was already all in, and it only got better as I began using the toner in the mornings daily and occasionally at night for a few weeks. This is also my first milky toner so I had a lot to consider, however, I was not disappointed in the results.
What I Like About The Moon Glow Milky Toning Lotion
This toning lotion fits perfectly into a morning or night routine; it's all about preference, but you can't go wrong either way. As mentioned, I tried both times for good measure. I found my skin to feel moisturized while out in the sun and in the elements throughout the day. And at night, I woke up to my face feeling hydrated and refreshed. With the toner also being a gentle exfoliant, I definitely felt the subtle deep clean on my face in the morning from the removal of dead skin cells.
I'm not sure this is on everyone's checklist, but I am a lover of detailed packaging so I was in awe before even opening the box. The brand design — which can be viewed on the website as well — is a kaleidoscope of nature (including trees, mushrooms, and flowers), planets (of course multiple phases of the moon), and stars. If you're an astrology enthusiast, the vibe is definitely for you as there are also hints of zodiac elements mixed throughout the colorful graphics. But the intriguing look didn't stop there. The 3.38 ounce (100 mL) glass bottle is covered in a sleek black font, which looks aesthetically-pleasing against its milky white contents. It looks just as good as it feels, making it a winner for my skincare collection.
What's Worth Noting About The Moon Glow Milky Toning Lotion
I must admit, the watery consistency was surprising, but it didn't take away from the experience of usage, so don't let the word "lotion" throw you off (like me). After a few days, I appreciated the ultra-light addition to my skincare routine. The gentle exfoliation — from the natural alpha hydroxy acids (AHAs) made my skin feel extra smooth. The combination of highlighted ingredients — meadowfoam seed oil (an anti-inflammatory fatty acid that heals damaged skin barriers), snow mushroom (for hydration), niacinamide (to minimize the appearance of pores), and ceramides (to lock in moisture) — created a synchronized result of sleek, hydrated, and moisturized skin that lasted through the day.
Another favorable note is the blend of natural floral and citrus scents, including roses, graveolens, limes, oranges, lemon, coconut, and apple. The light fragrance blended well with my morning and night routines and didn't have an overpowering effect. No matter the time of day, the fragrance uplifted my mood. And since the scent lingers for a couple of hours after application, it feels like I'm carrying a bouquet of flowers and fruit with me, and if you ask me: that's the bohemian, tropical vibes I'm trying to carry into the fall and winter seasons.
Who The Moon Glow Milky Toning Lotion Is Best For
If you're looking for a skincare product that's as full of love and light as you are, then the Moon Glow Milky Toning Lotion is perfect for you. For those with dry and/or sensitive skin, this is the toner to add to both morning and night routines. It's also incredibly affordable and the small bottle seems like it will last for quite a while. I've been using it for a couple of months now and the bottle looks like it's been barely used.
And the icing on this moisturized cake, for the conscious shoppers and environmentalists who want to look dewy and radiant, this toner is vegan, cruelty-free, and has a Leaping Bunny certification. As a company, Good Light also utilizes sustainability practices for sourcing ingredients and brand packaging, which includes 100% of the packaging materials being recyclable.
Additional Details
When doing your morning or night skincare routine, use this toner immediately after cleansing your face. Simply shake a quarter-sized amount of the liquid into your hand or onto a cotton ball and massage into your skin — make sure you don't get it into your eyes (this is a clean and green product, but you don't want anything in your eyes). It might be helpful for travelers to know that the bottle is 3.38 ounces (100 mL), so you can just throw it in your carry-on without a second guess. And if none of that convinces you that this toner is top shelf, the Moon Glow Milky Toning Lotion is a six-time award winner for best toner and industry disruptor.
Where Is The Moon Glow Milky Toning Lotion Available?
Rating:

Image Source: POPSUGAR Photography / Moná Thomas