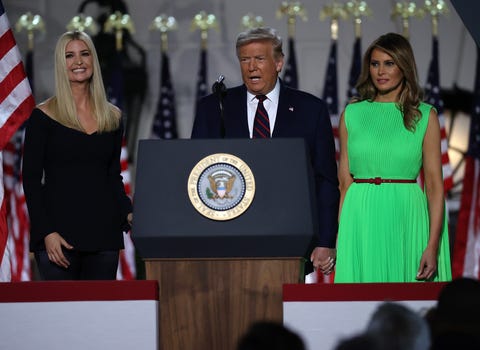 Chip SomodevillaGetty Images
Ivanka Trump spoke at the Republican National Convention last night, and honestly the entire thing was all kinds of yikes—in part because Melania Trump's reaction to her step-daughter was caught on camera and went viral.
As Just Jared points out: after Ivanka delivered her speech, she walked past Melania and Donald Trump on stage—and while at first Melania gave Ivanka a smile, the camera then caught her facial expression completely changing to…something else entirely. It was, in a word, 😬.
This content is imported from Twitter. You may be able to find the same content in another format, or you may be able to find more information, at their web site.
Watch the video above.
For what it's worth, Melania was reportedly taped slamming Ivanka by her former friend Stephanie Winston Wolkoff, and a source gave details of exactly what was said to the Daily Mail. Apparently, "Melania said Ivanka has not shown her the respect a first lady deserves and is constantly trying to steal the spotlight by overstepping her boundaries and behaving like her father's most trusted confidant à la The Apprentice. Behind Ivanka's back, Melania would often grumble to her inner circle that there's only one first lady and that her husband was the person elected, not his entire family, referring to his kids."
The First Lady's full taped comments will reportedly be included in Wolkoff's book Melania and Me: The Rise and Fall of My Friendship With the First Lady, out September 1.
This content is created and maintained by a third party, and imported onto this page to help users provide their email addresses. You may be able to find more information about this and similar content at piano.io