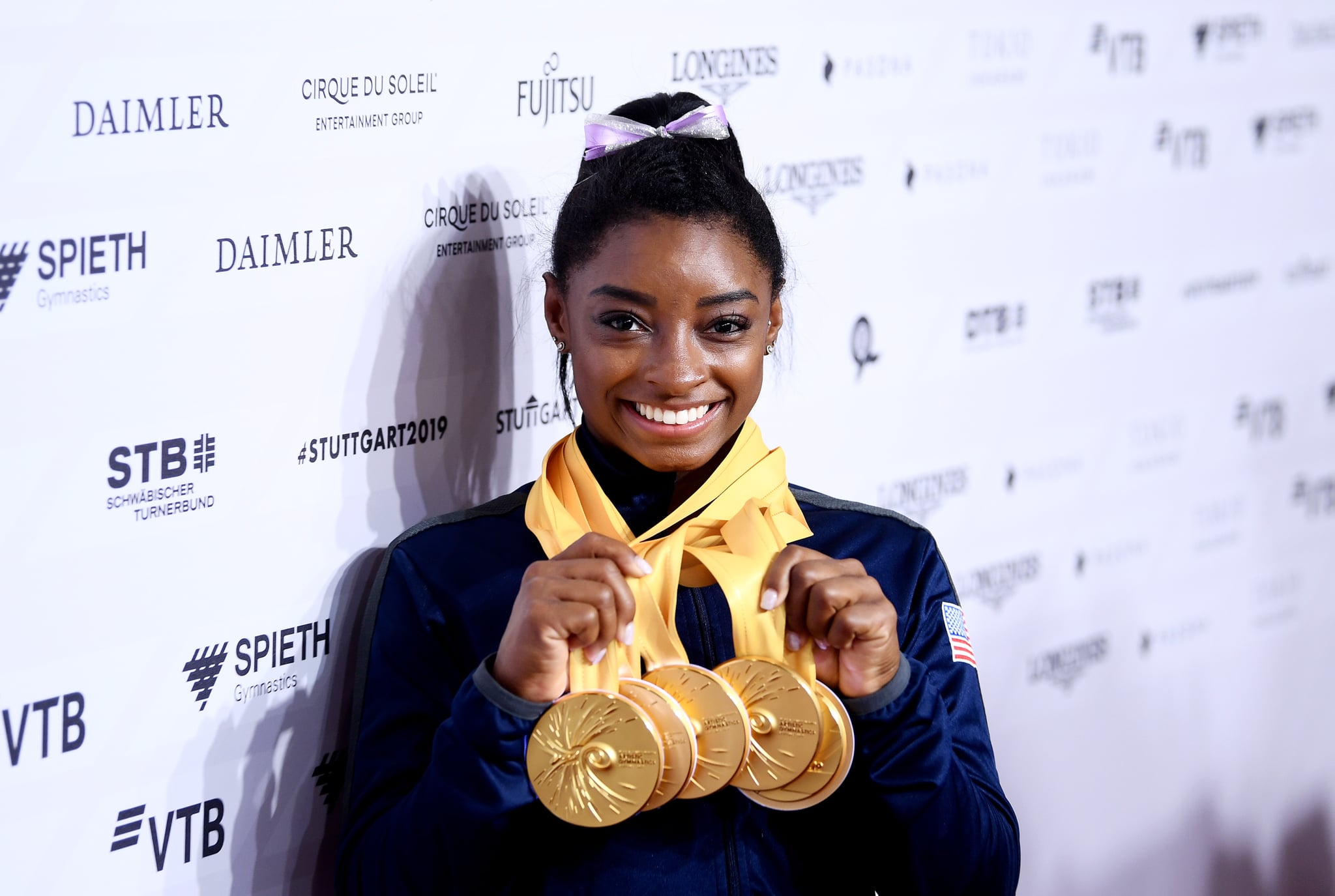 Simone Biles is just one of those names that will go down in history, and you know what? She deserves it, considering the world records she's set and the unbeatable skill level she brings to the sport of gymnastics. She truly is in a league of her own. And on Nov. 19, at the Team USA Awards, Simone was named the 2019 female Olympic athlete of the year. She received this honor back in 2015, too, and it's determined by fan voting as well as members of the Olympic and Paralympic community.
Let's go over everything that Simone, the four-time Olympic gold medalist, has accomplished this year, shall we? Back in August, the 22-year-old became the first woman since 1952 to win six national all-around titles. She was also part of the gold-medal-winning 2019 World Championship team that dominated the competition in October by almost six points. She competed two never-before-done moves at Worlds: a double-twisting double backflip off of beam and a triple-twisting double backflip on floor.
We saw Simone warm up her triple-double for the first time before the 2019 GK US Classic in July (which she also won). She debuted it in competition at the US Gymnastics Championships (aka, Nationals) the following month. By doing the triple-double and double-double at 2019 Worlds, this guaranteed that both will be named after her in the FIG Code of Points. The triple-double is valued at a J, worth one whole point, and is the most difficult skill added to the Code of Points to date. The FIG Women's Technical Committee gave the double-double dismount an H value, or eight-tenths of a point, though many believe it should be scored higher.
Simone, who now has four skills total bearing her name, made history at 2019 Worlds by beating her own record for most World all-around titles won by a woman. She set that record in 2018 by taking home her fourth all-around win. Her victory this year marked her fifth. Simone beat another one of her records, most World medals won in women's gymnastics, which she set last year because of a tiebreaker with Russia's Svetlana Khorkina. She then cemented her ranking at the very top after winning her 21st medal during the 2019 World team final.
What's more, the five golds that she earned marked the most of any gymnast at a single World Championship since 1958, according to Team USA. And, Simone became the most decorated gymnast, male or female, in World Championship history. After her performances at Worlds, her medal count totaled at 25, surpassing Vitaly Scherbo's previously held record of 23.
Simone, who has her sights set on Tokyo 2020 and hasn't lost an all-around competition in six years, is the best of the best — there's no denying that. As she's said proudly in the past, "the facts are literally on paper."