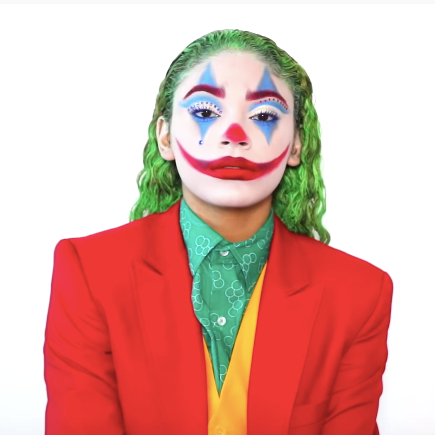 YouTube/Jasmine Brown
I'm calling it now: This Halloween will be the year of the clown, from Pennywise to Joaquin Phoenix's Joker. We know you procrastinated again, but YouTube is brimming with a wealth of deceptively simple Halloween makeup ideas that will give you all the double taps your heart desires. For those avoiding the clown router, there are plenty of extremely creepy, head-turning makeup looks, from the Grinch to Cruella de Vil. Here are 14 Halloween makeup ideas that are far from boring.
Advertisement – Continue Reading Below
Frankenstein Girl
Frankenstein isn't the most handsome monster, but Shaniah's Frankenstein Girl is gorgeous. Plus, the subtle hint of pop art on the lips is *chef's kiss.*
Mrs. Pennywise
As redundant as it gets, clown Halloween costumes will never go out of style. Luckily, Jamie gives us a fresh, glam update to everyone's favorite balloon-carrying clown.
If you buy one thing: Dose of Color Lip Liner in Snappy, $14
Venom
Show everyone your makeup skills by transforming into Venom. Use black paint to create the base, then use a white liner to create the villain's large teeth and eyes.
If you buy one thing: Mehron Makeup Liquid Face and Body Paint , $5
Joker
Joaquin Phoenix's Joker gave us yet another iteration of the iconic character's makeup. Here, Jasmine created a cut-crease with blue eyeshadow and blue jewels, covered her brows in red paint, and, of course, added the Joker's wide grin and nose.
If you buy one thing: Mehron Makeup Liquid Face and Body Paint, $13
Adelaide from 'Us'
This simple makeup look is perfect for procrastinators. The goal is to look like you're dying, so dust black eyeshadow around and under your eyes for a casket-ready look.
If you buy one thing: Ismine Single Eyeshadow Powder, $5
Zombie Zendaya
Zendaya can pull off any look, even if its a zombie edit created from a photo app. She didn't actually lift a finger to create the look, but according to this YouTube video, it's not hard to achieve. Create a sultry smoky eye, then add "cracks" using black paint and "blood" using red paint for a scary good look.
If you buy one thing: Rubie's Costume Co. Men's Body Paint, $5
Cruella de Vil
Cruella de Vil is one evil villain, but this look would make anyone think twice before crossing her. Instead of opting for simple green lids and a red lip, Evensya added an eerie touch by drawing Dalmatian spots across her chest and one side of her face.
If you buy one thing: Mehron Makeup Clown White Professional Makeup, $8
Kat from 'Euphoria'
Every bad bitch knows red lipstick is a makeup bag must-have. When Kat took a step over to the dark side, she dramatically switched up her look with bold eyes and dark lipstick. You can give the slime green lids and red lipstick combo a try, or opt for this goth look by pairing a red eyelid with black-lined red lips and mini crosses under the eyes.
If you buy one thing: NYX Professional Makeup Vivid Brights Crème Color, $10
Princess Jasmine
When in doubt, opt for a Disney Princess. To create this regal look, use an eye-popping gold shadow on the lids (in this tutorial, Queenii uses the shadow as a liner) and then go in with shimmery blue and green shades reminiscent of Jasmine's blue two-piece outfit.
If you buy one thing: NYX Professional Makeup Face and Body Glitter, $5
The Grinch
Sure, the Grinch stole Christmas, but you'll steal the spotlight at whatever party you walk into. Cover your entire face with green paint, then go crazy drawing black fine lines to mimic Grinch's crows feet. Add a few freckles and a shiny nose and you've created a faaaabulouuuusss look.
If you buy one thing: MAC Pro Performance HD Airbrush Makeup, $36
America Horror Story Beehive Head
Clowns aren't the only way to freak out party guests. Throw it back to American Horror Story: Cult to re-create the season's official poster, which shows a woman in minimalist clown makeup and her skull cracked open to reveal a gooey beehive.
If you buy one thing: Skin Illustrator FX Palette, $80
Jules from 'Euphoria'
Can't decide which Euphoria character's makeup look you want to emulate this Halloween? Start with Jules, who is known for playing with bold colors, shapes, and glitter. There is no such thing as too much glitter in Euphoria land, so after gliding a colorful, shimmery shade across your lids, dust some glitter under your eyes, around your brows, and on your cheeks.
If you buy one thing: Makeup Revolution Eye Glisten, $10
Mystique
It took makeup artists eight hours to turn Jennifer Lawrence into her X-Men character Mystique, but rest assured it won't take you nearly as long as transform into a shape-shifting mutant. All you need is the CCBeauty Professional Face Palette—and a whole lot of patience.
If you buy one thing: CCBeauty Professional Face Body Palette, $24
Maleficent
If you're just as distracted by Maleficent's sharp cheekbones as me, you can re-create the Disney villain's signature mug with a smoldering smoky eye, insanely contoured cheekbones, and scarlet lipstick.
If you buy one thing: Kat Von D Shade + Light Contour Kit, $50
Nerisha Penrose
Assistant Editor
Nerisha is the assistant editor at ELLE.com, covering all things beauty and fashion.
Advertisement – Continue Reading Below