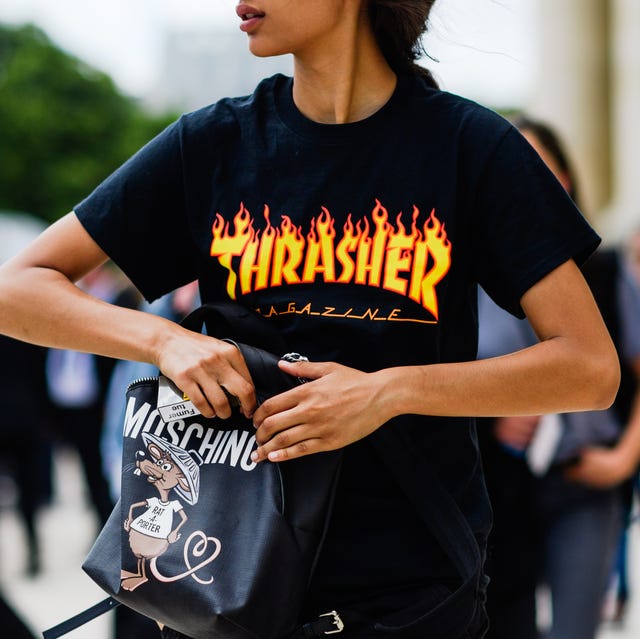 Tyler Joe
A good t-shirt is a closet staple that can go a long way, but that means you have to replace them often. Comb through your closet and finally throw away the stained, stretched, and worn-out you can't bear to wear in public, and move on to the next. Finding the right fit and style is a struggle, but we narrowed it down to the top ten brands that make the best tees for every need. From the perfect slouchy fit to a style so thick you can actually go braless, invest in our roundup ahead, buy them in multiples, and never look back.
Advertisement – Continue Reading Below
Our #1 Favorite
The Cotton Crew
Everlane
everlane.com
$18.00
The Everlane crewneck is the perfect not-too-loose but not-too-tight shirt that looks good with everything. It's thin, lightweight, and comes in a range of colors and stripes. If you're looking for an easy-to-move-in, breathable tee, stock up in this style.
Best for Layering
Slip Perfect T-Shirt
J.Crew makes a bulk-free tee that fits great under a sharp blazer and tucks seamlessly into your favorite jeans. It's ideal for layering and conveniently offered in both stripes and solids.
For High-Waisted Jeans
The Cropped Crew
Hanes x Karla
shopbop.com
$30.00
Finally, a cropped t-shirt for those with broad shoulders. The Hanes x Karla cropped tee is wider and boxier with a heavy cotton weave that feels sturdy. This added comfort is necessary for a t-shirt that bares your stomach. 
The Heavyweight
U Crew Neck
If you like a little weight to your basic tee, look no further. This Uniqlo shirt is fully opaque, so you can wear it with colored bras, bralettes or no bra at all. The cut is tailored without being form-fitting, and its wallet-friendly price can't be beat.
The Tie-Dye
Northside Vintage Tie Dye
Madewell
madewell.com
$39.50
The tie dye trend continues to go strong, and I am not upset about it. Madewell's is hand-dyed, meaning each one is completely unique and will stand out among your basics.
Best Athletic T-Shirt
Jersey Tee
Outdoor Voices
outdoorvoices.com
$35.00
This is the shirt you can wear whether you worked out or not. The best part about this Outdoor Voices tee is that it wicks away sweat like your favorite performance gear, but it looks and feels like a normal tee. 
The Boyfriend Look
The Oversized Tee
Cotton Citizen's Sydney Tee is what you always want your boyfriend's shirts to look like, but with better tailoring. The cotton is so soft, you'll want to live in it. 
Our Favoirte V-Neck
Essential Pima Cotton T-Shirt
Vince
neimanmarcus.com
$75.00
This longline v-neck doesn't dip too far down. It falls just low enough in a flattering cut, and works well with layering necklaces.
The Non-Vintage Vintage Tee
The Graphic Tee
RE/DONE
shopbop.com
$110.00
Re/Done's cheeky crews have an old-school vibe without being a "vintage" rock-tee. It's thrift store shopping without the hassle. 
For an Evening Look
U Neck Tee
Rag & Bone
rag-bone.com
$90.00
The Scoop neck tee is notorious for being difficult. The collar has to fall just right, the fit should be slim, but it can't be too baggy where it looses its U-shape. The Rag & Bone tee checks all of the above boxes, and looks great with skinny jeans for a night on the town. 
Advertisement – Continue Reading Below