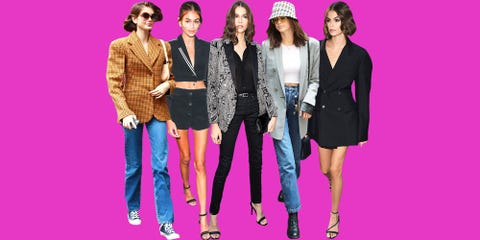 Courtesy of Backgrid, Getty Images, and Splash
Kaia Gerber just turned eighteen, but she is well beyond her years when it comes to fashion. Her model-off-duty aesthetic is aspirational, yet attainable. She is the Gen Z style equivalent to Rosie Huntington Whiteley, but less neutral in palette and a little more budget-friendly than Rosie's predilection for Bottega Veneta. Gerber can make us gasp in a dominatrix Versace dress work for her birthday, but there is one article of clothing in particular that she is intuitively great at pulling off: the blazer.
We counted more than twenty times she's worn a blazer and never has she failed us. Between fashion shows in Paris? She's wearing a blazer. Hitting up Anwar Hadid's birthday party? Blazer. Casually attending Marc Jacob's wedding? You're damn right she suited up in a blazer.
How exactly does she master the tailored topper? Read on the for the four key style rules Kaia Gerber always follows, ahead.
Oversized, All the Time
The most notable observation in Gerber's choice of blazer is that this is far from a fitted schoolboy style. This is the anti-tailored look. If you're not swimming in a giant '80s-style blazer like Obama's ill-fitted suit or a non-problematic James Van Der Beek in Pose, you're doing it wrong.
Jeans and High-Tops
Kaia Gerber has good genes and jeans. She owns a lust-worthy collection of flattering straight-leg, vintage-looking denim. With them, she created her go-to combo: a pair of perfect jeans, an oversized blazer, and high-top Converse sneakers. This uniform is a modern take on Princess Di's '90s look, minus the biker shorts you'll probably regret this time next year. This easy ensemble is the ideal commuter outfit, too— all you need to do is swap into office-ready shoes (mules, pumps, loafers) once you clock in at work.
Try a Hat
A Cool Person Hat tones down the fussiness of a structured blazer. Gerber, token Cool Person, shows us how it's done in both buckets and a baseball cap.
Make It Sultry
Gerber can make the blah-iest of blazers look sexy, with multiple examples to choose from. Exhibit A: Get micro with cropped jacket and mini-skirt set. Exhibit B: Embellish your blazer and style it with an monochrome backdrop and sky-high stilletos. And our favorite, Exhibit C: Don't wear pants.