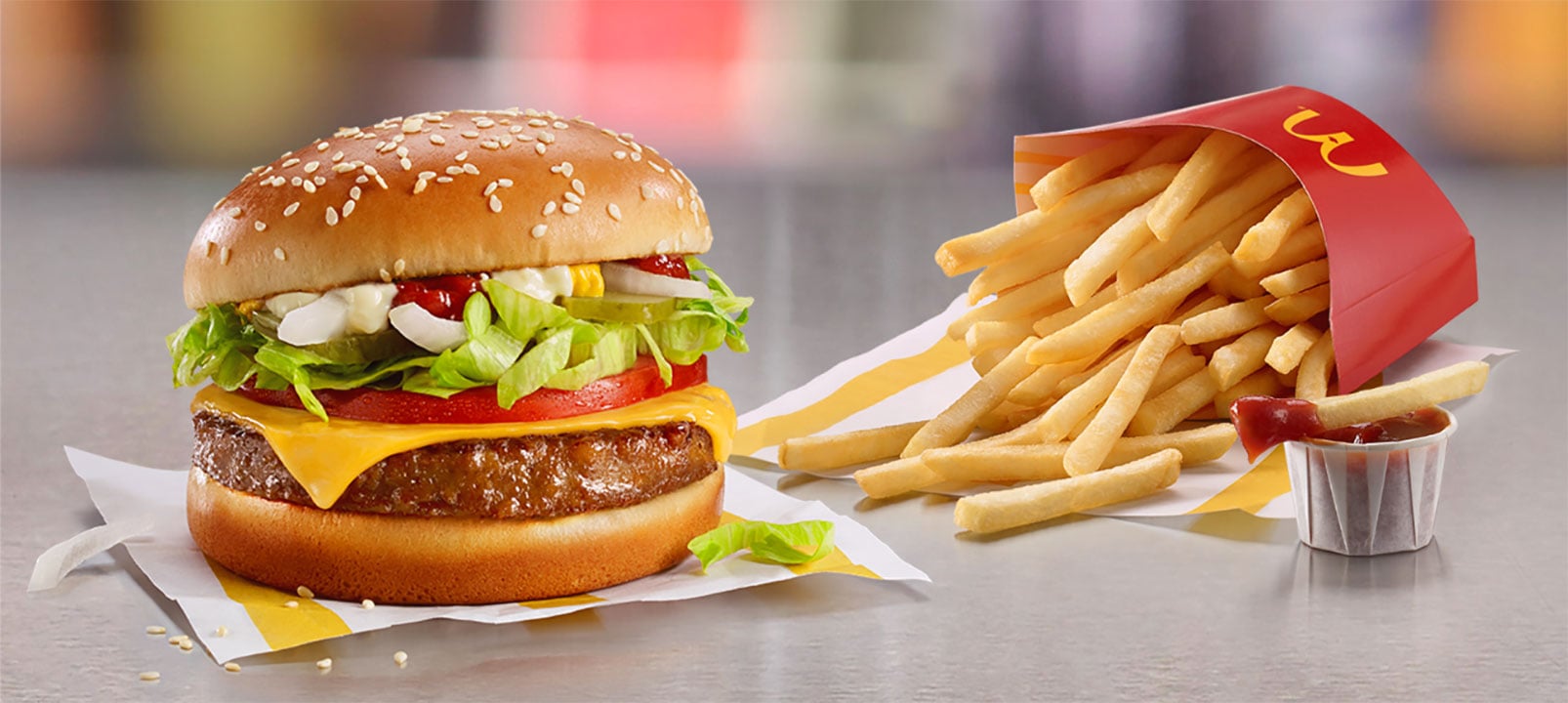 Vegans and vegetarians can start "loving it," because on Thursday, McDonald's announced it's teaming up with Beyond Meat, offering a new plant-based burger in Canada at 28 designated locations. Creatively called the P.L.T. or "Plant. Lettuce. Tomato.," this veggie option will be on the menu in certain Southern Ontario locations for 12 weeks starting Sept. 30.
But vegans, don't get too excited yet! McDonald's wants to make it clear that this burger isn't 100 percent vegan since it has a slice of cheddar cheese on top and the mayo-style sauce contains eggs. Of course, you could order yours without the cheese and mayo, but note that the description on the website says the Beyond Burger patty will be "cooked on the same grill as other burgers, meat-based products and eggs."
The P.L.T. has 460 calories, 25 grams of fat (seven grams saturated), 20 milligrams of cholesterol, 42 grams of carbs, 17 grams of protein, and 920 milligrams of sodium. For comparison, a McDonald's Quarter Pounder With Cheese is 520 calories and has 26 grams of fat (13 grams saturated), 85 milligrams of cholesterol, 41 grams of carbs, 30 grams of protein, and 1,080 milligrams of sodium.
With more and more companies offering plant-based options (thank you, Burger King, for your Impossible Whopper!), this is a huge step in the right direction for the planet to help reduce global greenhouse gas emissions. We're hoping this P.L.T. test is successful, because you can bet your sweet acaí that I am not driving to Canada just to get a semi-vegan burger! For now, I'll just be grilling up the Beyond Burger at home.