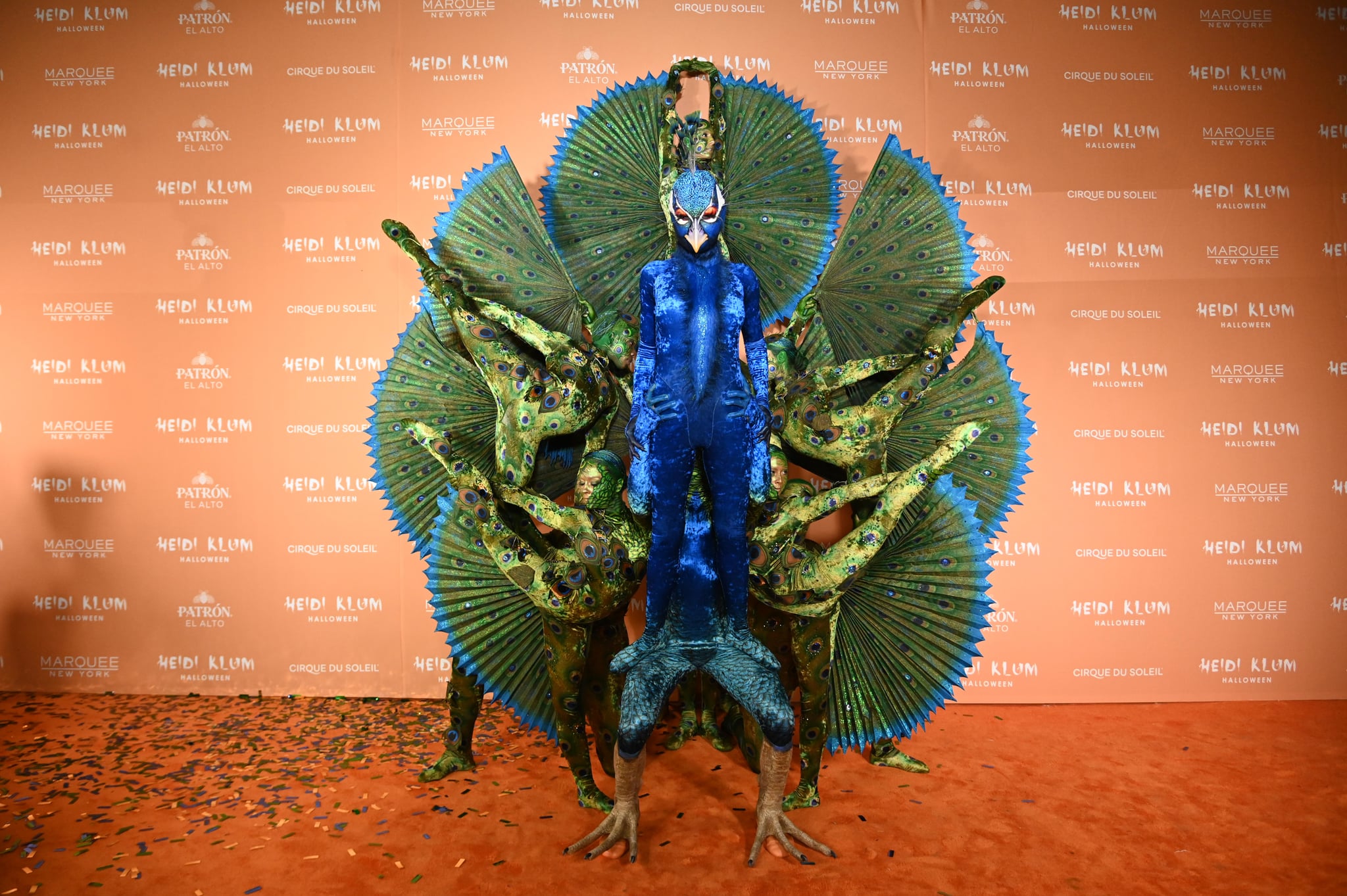 Somehow, every year, Heidi Klum finds a way to top all of her prior Halloween costumes. By the time her 2022 worm costume was unveiled, I personally thought we'd reached peak Heidiween. The commitment, the detail, the prosthetics — every. damn. year. — are at 100. Still, Klum found a way to make her 2023 Halloween costume bigger and better — literally. You've probably seen it by now: her elaborate peacock costume, which involved the help of 10 Cirque du Soleil performers who made up the peacock's legs and wings.
The Cirque du Soleil artists put in more than 20 hours of rehearsals to master the moves and make the vision — created by Klum, makeup artist Bill Corso, and costume designer Marie-Chantale Vaillancourt — come to life. It was like a microdose of a Cirque show, but on the legendary orange carpet of Klum's annual Halloween party: there were contortionist tricks, acrobatic moments, and even people flying through the air.
It has everyone on the internet wondering what it would be like to answer "What were you for Halloween?" with "Heidi Klum's legs." Because we were curious, too, we caught up with one of Klum's peacock performers: Anna Soltys Morse, an acrobat and artist who participated in the costume with Cirque du Soleil.
Klum's request was really surprising and unusual, even for Soleil, Soltys Morse says. The exact project was kept under wraps until the acrobats confirmed that they were available for the gig, and then it was revealed that they would get to be part of Klum's costume.
They kicked things off with a four-day workshop (with Klum) at Cirque du Soleil's International Headquarters in Montreal. The choreographer knew the ending pose they wanted — one that finally showed the full peacock form — and they worked backward from there. "Then it was just about finding the right pathways to get to that position, and to make it look like a bird, a little bit creepy . . . and then just seeing what was even possible with the costumes and the fans."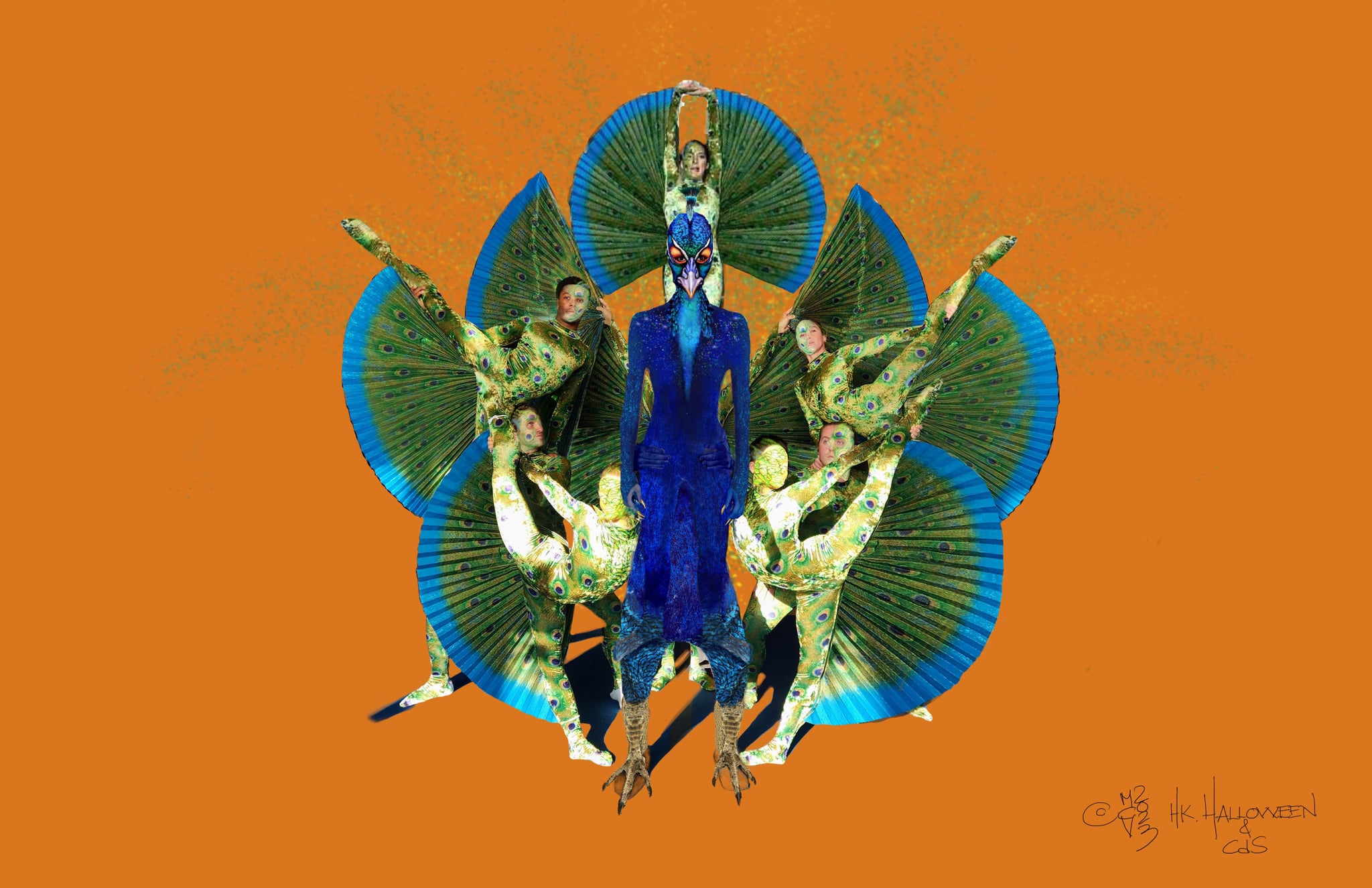 The performers ran a dress rehearsal during each step of the costumes' production, so that they could figure out, for example, which part of their wings needed to be attached, and which needed to be free to create the right effect. They also needed to know "if it was possible to jump in [the costumes] and to stretch, and what the contortionists could do and what the acrobats could do," Soltys Morse says. "I thought it was actually really fun as a constraint and a challenge. Sometimes it's better not to have every possibility but a few things that help you find the idea and the movement, like trying to figure out how to hide the blue and then reveal the blue and work with the idea of a spooky bird. It helped us fine-tune what we ended up doing on the orange carpet."
When they got to New York ahead of the Halloween party, Soltys Morse and the others from Cirque du Soleil had another day of rehearsals with Heidi, so she could practice the pose at the end. Then, the day of, they spent nearly 12 hours at the venue prepping for the show and getting in hair and makeup, which included a generous amount of face and hair paint, gold-leaf makeup accents, and velvet bodysuits with Swarovski crystals. The performers had some space to warm up out of view, and then the time came for them to step onto the orange carpet.
As far as circus performances go, it was pretty unusual, Soltys Morse says. There were a lot of tricky factors, including the fact that they were performing it on a New York City sidewalk with limited space, the possibility of there being a lot of noise from the street, or not being able to properly hear their music. They also didn't get to rehearse the routine in the space ahead of time — which can be super disorienting as a performer, since you're not used to the way the sound bounces or how to find your marks. In the end, they pulled off the performance without any major hiccups.
"I've never been on a red carpet before, personally," Soltys Morse says. "All the people on the street making noise and then the paparazzi yelling at Heidi made me really understand what it must be like for her all the time. It's really wild."
Klum's costume was also even more demanding than that of the acrobats. "She was in prosthetic makeup for hours and hours . . . The beak wasn't very comfortable for her, I'm sure, but she fully committed to it. So kudos to her."
Overall, being in Heidi Klum's Halloween costume was not on Soltys Morse's bingo card for this year — but the experience did not disappoint. "It was amazing. I wouldn't have expected this would happen," she says. Afterward, Klum invited them in to roam the party as peacock parts, and part of Klum's soon-to-be-viral costume. Can you name a better Halloween than that?
Image Source: Getty / Noam Galai / Stringer