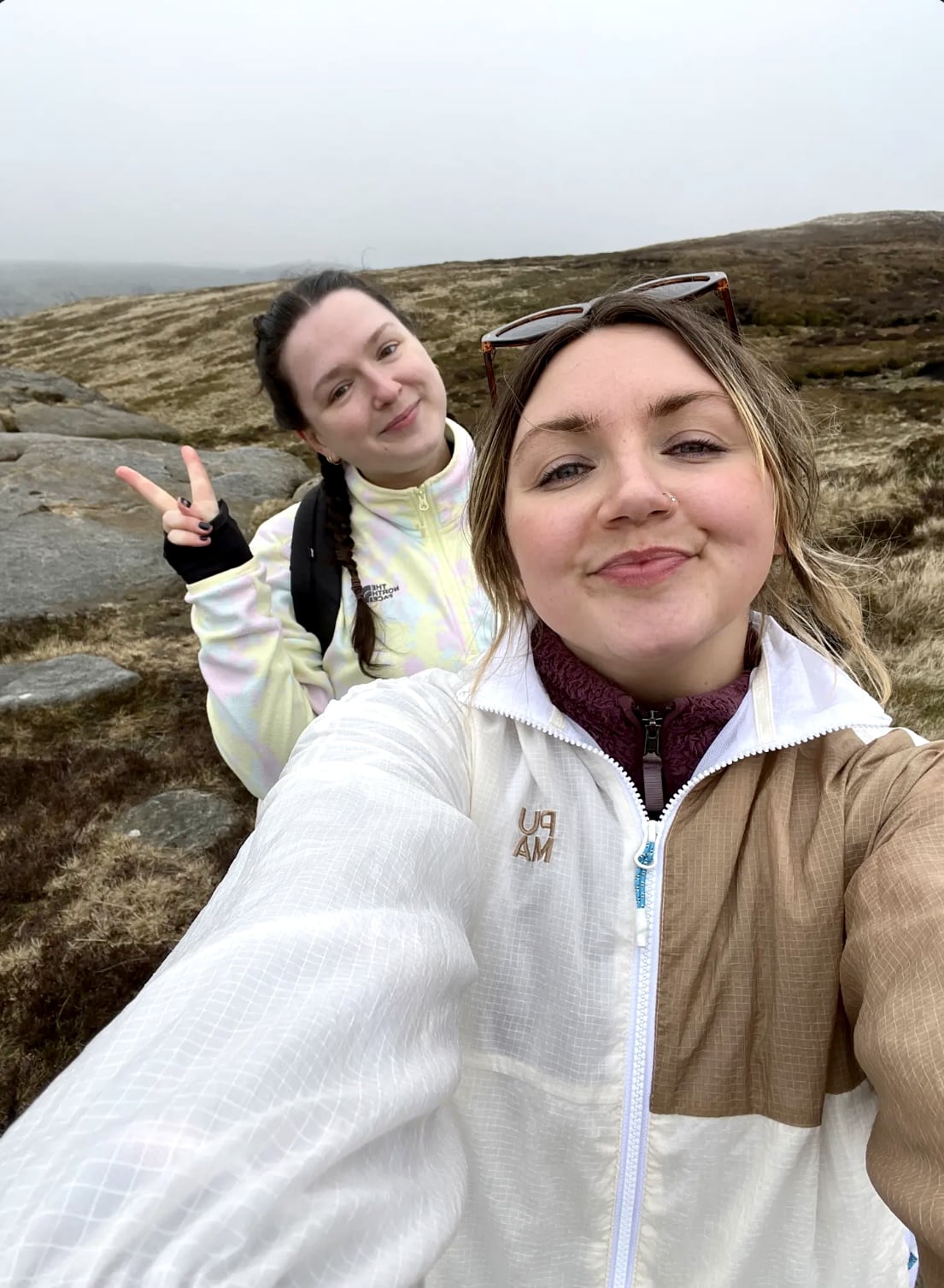 It's easy to be intimidated by the great outdoors. Between stinging bugs, burning sun, hungry animals, fierce cold, and the usual lack of cell service, there are plenty of things that can go awry when you head deep into nature. Not to mention, most outdoor activities typically require a certain level of expertise (or lessons to get there), private transportation, and serious gear, all of which aren't the most accessible, financially or otherwise.
"We've come to realize that this concept is so important because it reminds people that they have as much right to be on the hike as the most seasoned, experienced hiker."
Still, despite all these factors, everyone should be able to enjoy being active in the outdoors — and it doesn't need to be as intense or scary as you might think. That's exactly the message two TikTokers are hoping to share with their platform, @softgirlswhohike.
Lucy and Emily, the UK-based creators of the account who've coined the term "soft hiking," first came up with the concept while, naturally, on a hike.
"We were saying how nice it was to take things at our own pace, go off trail to look at history plaques or interesting-looking mushrooms, and we realized how we were on the same page with how we see hiking," Lucy tells POPSUGAR.
The overarching idea behind "soft hiking" is that hiking doesn't need to be hard, miserable, fast, or even focused on the finish. Soft hiking implores people to go at their own pace, reconnect with the joy of walking in nature, and remove any performance pressure or intense expectations. It's reframing hiking as something anyone can do — because, really, most people can. At its simplest, hiking is just walking outside.
If you've long thought of hiking as something reserved for the athletically elite or especially crunchy, the soft-hiking movement will convince you otherwise. Read on for a conversation with Lucy and Emily about the inspiration behind soft hiking, the magic of getting outside — including what it's done for them, physically and mentally — and why you should try it for yourself.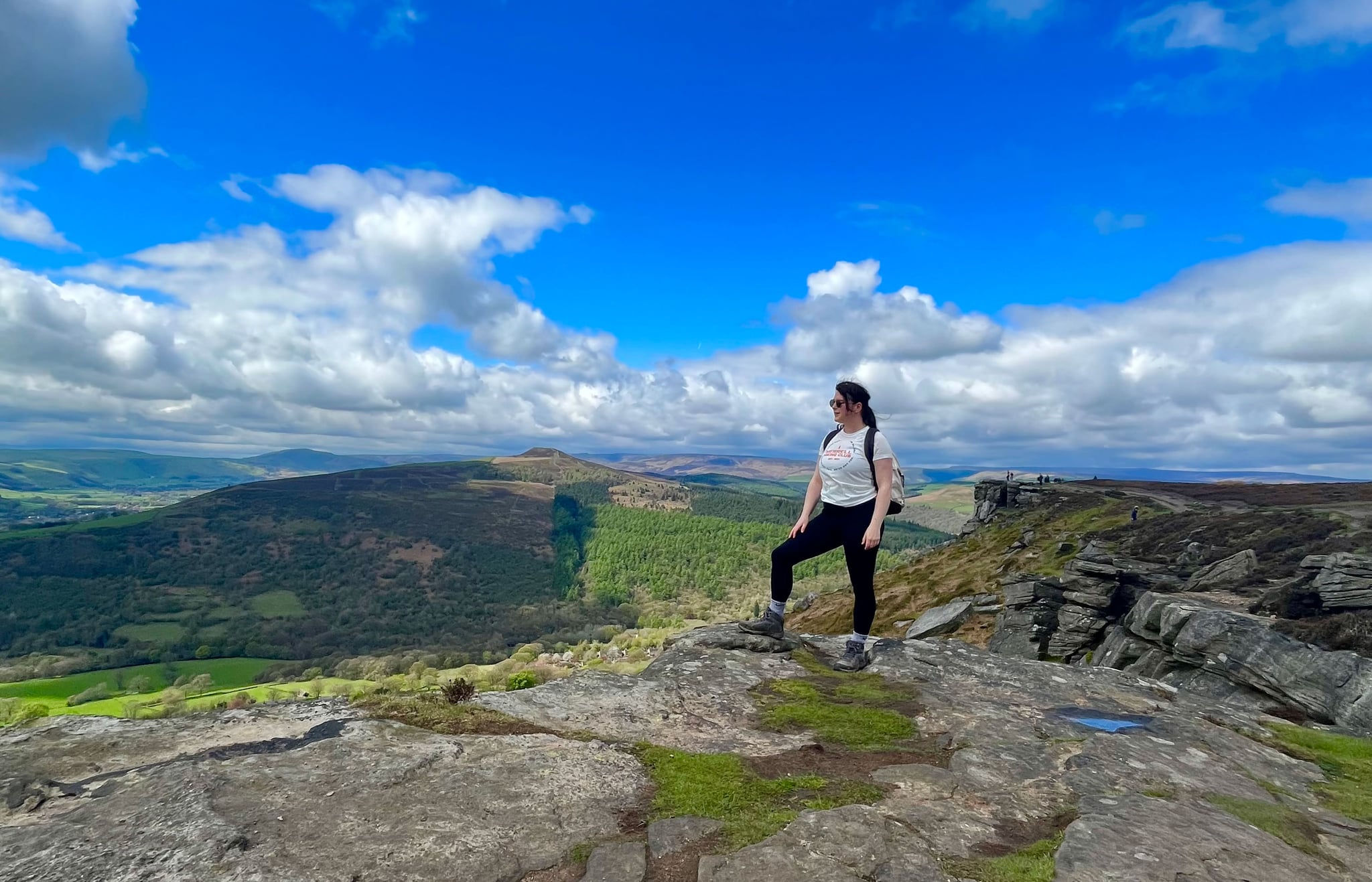 POPSUGAR: What was your experience with hiking like prior to this? Was there an aha moment that led you to approach hiking in a new way?
Emily: I went on a lot of family walks and camping trips as a kid and actually didn't enjoy it very much! I wasn't very outdoorsy, and I often felt like I was lagging behind on hikes and couldn't keep up. As I've matured, I've found a renewed love for nature and hiking. (Not spiders, though.)
Lucy: I've always loved walks and being in nature but never realized how accessible hikes were. I thought I needed a car to get to all the beautiful places in the UK, then quickly discovered a lot of them are accessible by train. I then started going on more hikes into the Peak District [a national park east of Manchester, England] and Yorkshire but found my goal for the hike was very different from others, and it made me feel like I was doing it wrong somehow. Then when I went on my own terms, along with Emily — who has the same vibe as me — we realized we can just do our own thing, take our time, and it didn't make us any less of a hiker.
PS: Why do you think it's important for people to know that hiking doesn't need to be hard or extreme?
E: A lot of our followers comment that they've felt self-conscious about themselves, had negative experiences on competitive group hikes, and experienced other obstacles such as chronic illness, which were barriers for them. It's important to acknowledge that everyone faces everyday battles, but our ultimate goal is inclusion. We had a comment from an Olympian who said they love soft hiking, too! So you can be the fittest athlete and still be kind to yourself on the hiking trail.
L: People said they've always hiked like this, and they're so happy there's [now] a word for it that resonates with them — and we think that's a beautiful thing! We've come to realize that this concept is so important because it reminds people that they have as much right to be on the hike as the most seasoned, experienced hiker. We even had some comments that people felt inspired to try a soft hike themselves and asking if others in their area would like to join!
E: We didn't expect the term to blow up on social media so much; it was just a term that resonated with us. We were overwhelmed by the response. We like that we've discovered that there are many different words in many other languages that describe [similar ideas to] soft hiking, such as bimble, hobbiting, shinrin-yoku (Japanese), spaziergang (German).
PS: What do you hope to accomplish by sharing your content about soft hiking on social media?
L: Ultimately, we would love to create a community of soft hikers.
‌E: At the end of the day, people who haven't had the confidence or motivation to get outdoors for their physical and mental health now have a newfound motivation, and that can only be a good thing!
PS: What sort of changes have you noticed in yourselves (mental, physical, motivational, etc.) since you started soft hiking?
E: I have sciatica, which is an irritated nerve that usually [creates pain that] starts in your lower back and travels down your leg. It was very debilitating, and some days, it was difficult to even do simple tasks and get out of bed. But I have found movement to be the best medicine (and a good stretch afterward). I'm not healed but haven't had quite as many flare-ups as before I started soft hiking.
L: I had to stop exercising altogether last year due to medical advice, so I lost a lot of fitness. I was quite an active person, so it really affected me not only physically but mentally, as I also have anxiety. As soon as I got the go-ahead to restart, I was getting really frustrated that I wasn't at the fitness level from before; however, soft hiking has allowed me to slowly but surely regain that fitness level without pushing myself to the extreme and causing more harm. I'm feeling so much fitter with each hike, and not only that but my mental health is there, too. Being in nature, especially out in the pure countryside and the clarity you get for your brain if you do have anxious thoughts, is unbeatable.
PS: What's the first tip you would give someone who's considering hiking but is afraid to start?
E: Take a friend! Someone who is on the same page as you.
L: Plan your route, and start with something soft and gentle to gain your confidence.
Image Source: Courtesy of @softgirlswhohike