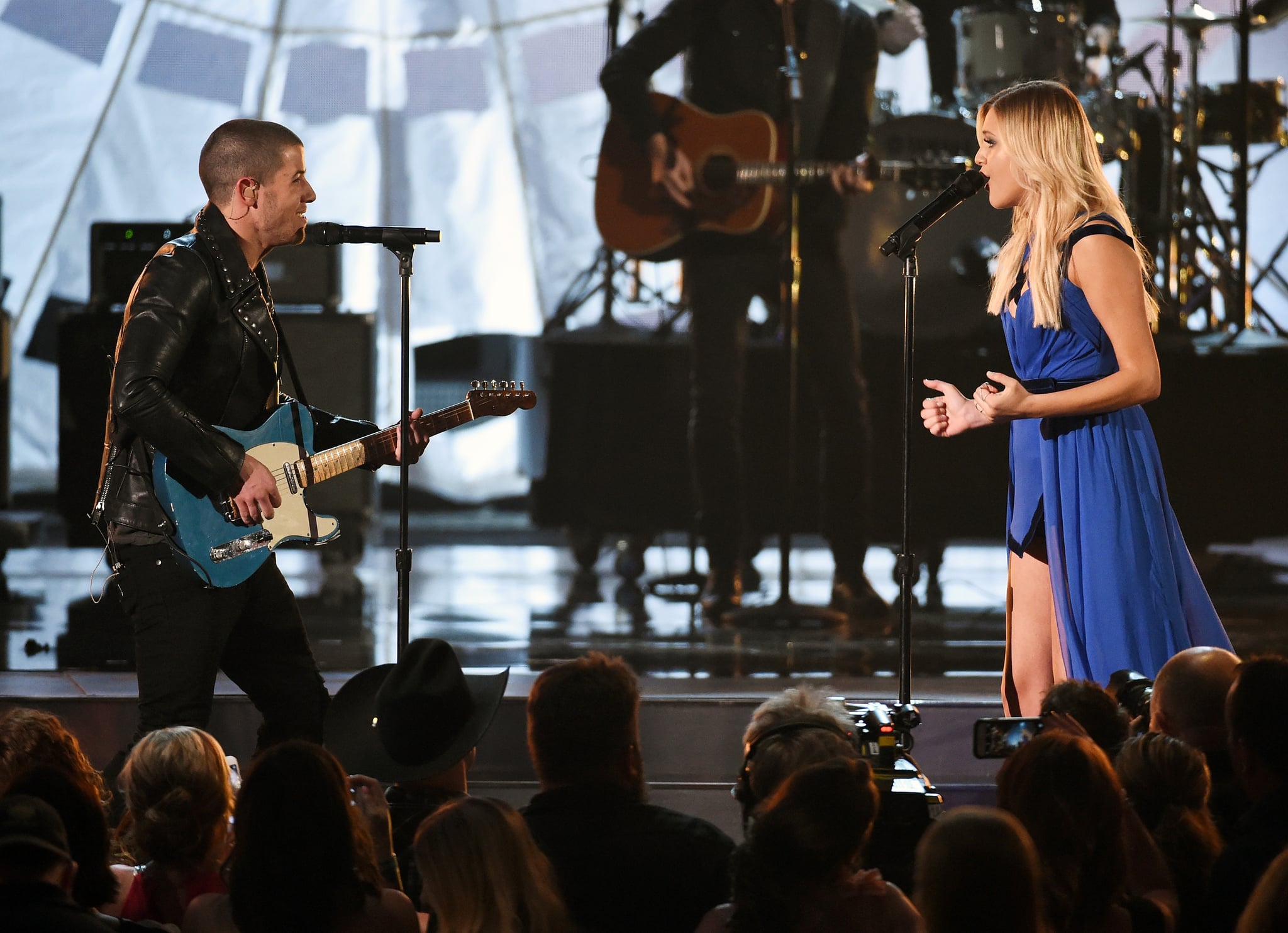 Image Source: Getty / Ethan Miller
Nick Jonas candidly recounted one of his most "traumatic" onstage moments during an interview on Dax Shepard's "Armchair Expert" podcast. On May 22, the "Jealous" singer joined his brothers, Joe Jonas and Kevin Jonas, to discuss their Disney Channel era, the band's 2013 breakup, and their solo careers. During a discussion about his most upsetting past performances, Jonas also detailed an unforgettable incident at the 2016 ACM Awards that caused him to attend therapy.
"It was a really traumatic moment that shaped the pressure I put on myself to always be on."
Jonas was performing a duet of "Peter Pan" alongside Kelsea Ballerini when he experienced a "tragic guitar solo debacle" on live TV, despite feeling extremely prepared. "I'd rehearsed it a million times, feeling really confident about it, not even really thinking about it like it's a thing that's going to be problematic," Jonas tells Shepard. "I started off — it's fine — and as I sort of walked towards [Kelsea], I just completely blank and I hit a wrong note and like blacked out, basically."
Following the incident, Jonas says he sought the help of a therapist to process what had happened. "To this day, after hours of unpacking it, I can't really figure out exactly what happened," he says of the moment, adding that it had a lasting impact on his career. "I was like rushed into a car and right into a plane after and I looked at my manager and I was like, 'I think that was bad,'" he says. "I was in shock. It was a really traumatic moment that shaped the pressure I put on myself to always be on."
As a lifelong performer, Jonas adds that the ACMs performance was not his first onstage mishap. When he was a child, Jonas starred as Tiny Tim in a 2000 production of "A Christmas Carol," his first Broadway show. "I forgot the lyrics and it was traumatizing," he says. "I know it didn't matter as much as it felt like it did — and that's always the case."
Jonas says another upsetting "core memory" occurred when he was a teenager performing at a tribute show for the late Cole Porter. "I get up there and I had prepped super hard for my performance," he says. "I'm singing 'Let's Misbehave,' a classic. I know every word. I've got three songs here. So I get up on stage in front of Cole Porter's family estate and I just blank, completely blank, and I literally start scatting."
Jonas left the stage feeling stumped over the incident. "I spent weeks thinking about how I could have better handled the situation and looked more like a pro, but I was 17 or 18," he says. "I was horrible. I flew right to Austin, TX to do something for [SXSW] the next day and I was just so in my head that it was going to come up and they were going to ask me. Nobody cared."
These moments, however, led to growth, and Jonas says time and therapy have allowed him to find humor in his past upsets, including the Kelsea Ballerini duet. "In retrospect, I can kind of laugh about how big I thought it was, but it did travel more than I wish it would have and it did cause me to go into therapy," he says.
Listen to the full "Armchair Expert" episode ahead to hear more about Jonas's solo career and how a "functionally toxic" dynamic caused the Jonas Brothers to split for five years.